We had to wait till the final words from the judges to let us know. That was new.
But in one way, this was a throwback finale for the 12th series of Ten's global cooking show juggernaut, which returned this year with an All-Stars format. Two brilliant women had gone head-to-head in the very first MasterChef blockbuster final in 2009 – Poh Ling Yeow and Julie Goodwin, a ratings blockbuster at the time.
This year Jackson and Sharrad matched up for the kitchen duel.
It was the culmination of a series of 24 contestants who had appeared on the show since its 2009 debut but had not won it. Jackson and Sherrad were contestants on series six in 2015.
There were many favourites over the season who came back but still didn't make the Back To Win cut. For the final week of shows, there was no Poh. No Hayden. The stars got dumped a bit before the grand final but Monday night's big bash still had a tang of nostalgia.
"Two best friends going at each other again," said one.
But in the end, the trophy went to Jackson, who said: "I owe it all to the three of you [judges]. And I owe it to this little lady. Being able to reconnect with Laura after so many years has been just magic for me. She's just incredible."
It cemented the sentiment that had launched the final.
"Good luck, my Meely," said Laura.
"Good luck, Laura," said Emelia.
In the end, various dishes and disasters took their toll.
Emilia won raves early, with judge Andy Allen declaring of her first dish in standard Andy Allen terms: "What a ripper of an entree."
There were disasters, most notably Laura's arm burn, which rendered her one-handed for the rest of the cook.
In the end, it all came down to the dessert.
Melissa Leong, the glorious star of the TV season on this and any other show, declared: "Before the desserts arrived, there was nothing in it. But this is the course that decided the winner."
Sharrad, the runner-up, admitted: "I'm pretty gutted. I'm not gonna lie. But … I'm so proud of her. Meels is amazing and she deserves this so much."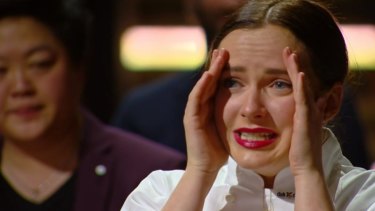 There were many MasterChef things that were a bit hard to get – smoked emulsions, fried saltbushes and seared bonitos. But the finale won the night, as this show often does: generous human beings making great food and celebrating each other.
Ten announced last night that off the back of the MasterChef ratings success in 2020, it is bringing back Junior MasterChef for the first time in nine years – with the judges running the show. Ten says Leong, Allen and Jock Zonfrillo will be at the helm of the show sometime this year.