In 1960, Mingus was riding such a creative high that masterpiece albums seemed the only sort he knew how to make. In concert, his band burned, as it did on July 13 at Antibes Jazz Festival in France, where a live album was recorded that also documented the last time Bud Powell and Charles Mingus played together.
Powell and his wife Buttercup were Paris-based by then. They couldn't stop the headaches, schizophrenia or drinking, but in France they could evade the racism. So when Mingus took a piano-less quintet to Antibes he invited Powell to join them for April in Paris, a song that would put Powell in his comfort zone. The result is sad and exhilarating all at once because on the one hand you hear Powell's articulation like a blurry shadow of its former self, but on the other you still hear the courtly elegance of his lyricism, and you hear Mingus willing him on – not verbally as he does with his band, but subtly, from the bass: making that comfort zone so big and fat that Powell knew he would bounce if he fell off the racing chords.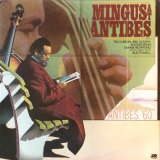 For the rest of the 70 minutes, your ears are pinned back by a great ensemble blazing with comet-like intensity on a Mingus repertoire that managed to gaze into jazz's past and future simultaneously. There's Danny Richmond, the bassist's partner in the art of swing; the drummer who for 20 years telepathically knew when Mingus was going to change rhythmic direction mid-stream. Then there's Booker Ervin, among the most sophisticated of the bruising Texan tenor players, and Ted Curson, the perfect Mingus trumpeter. And finally, there's Eric Dolphy, who revolutionised the alto saxophone, the bass clarinet and jazz improvisation more generally, who was as incandescent as Greek fire was in pre-medieval warfare.
Together they lit up such Mingus classics as the fervent Wednesday Night Prayer Meeting, Folk Forms 1 and the joyous Better Git Hit in Your Soul; compositions by a man whose points of reference ranged from the field hollers of slavery to Charles Ives. Jazz has only spawned a handful of geniuses. We lost one when Mingus died in 1979.