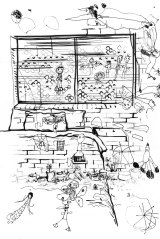 "This drawing collaborates with them directly," she said. "My drawings and the kids' drawings are entangled in each other, which is an authentic reflection of our experience in lockdown."
The Art Gallery's assistant curator Lisa Catt said the exhibition came at a "critical moment we're living through".
"Right now, trying to see or make sense of the big picture can feel overwhelming so in this project we have turned to small pictures," she said. "These are intimate scenes of comfort and contemplation, of uncertainty and change, of lost routines and newfound joys. Each work is as much about looking inwards as it is looking outwards."
The other eight artists featured in the exhibition are Thea Perkins, Mitch Cairns, Tom Carment, Emily Hunt, Jumaadi, Tom Polo, Jude Rae and Jelena Telecki.
Santiago drew the view from her bedroom window looking out, and from outside looking in. Outside the window lies a patch of grass her family "never really used" before the shutdown. Now the space is used as a soccer field and it hosts family picnics. Similarly, the long shared driveway will be remembered as the location of her eldest daughter's first bicycle ride without training wheels.
With the family of five cramming into a two-bedroom apartment, "we're very much in each other's spaces," Santiago said.
"It was pretty hard to adjust at first, just having everyone at home," she said. "In the first couple of weeks I just had to abandon my studio work."
Like many people, Santiago has found the shutdown stressful professionally as her work dried up and responsibilities at home increased.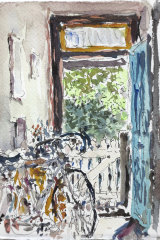 "I'm a person who doesn't like uncertainty," she said. "It's been an anxious time not knowing what deadlines I'm working towards. There's just a lot of uncertainty around the whole arts industry, more than most. If we didn't have kids I would be so productive, and so fit as well. I think the kids suck lots of time out, but they're delightful at the same time."
Santiago says her artwork will help her look back and reflect on this period in her life. "It's a bit of a time capsule drawing for a very specific, weird time for everyone," she said.
From My Window launched on Wednesday on the Art Gallery of NSW website.
Josh Dye is a news reporter with The Sydney Morning Herald.