A spokesman for Paul Fletcher, minister for communications, the arts and cyber safety, would say only that "as the Prime Minister has indicated, the government is looking at how best to support the screen sector, to stimulate jobs and get the economy moving again".
Before COVID-19 shut production down, Australia was poised for a big couple of years in terms of foreign activity, with back-to-back Marvel films at Fox Studios in Sydney, and the TV series Clickbait and Shantaram and two fantasy films from Dick Cook Studios at Melbourne's Docklands among the projects announced.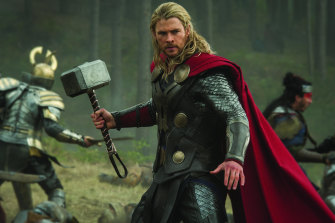 Ms Marks estimates the shutdown impacted around $725 million of foreign production scheduled for 2020 and 2021.
"With everything we had going on before shutdown, if the year had gone to plan we were pretty close to capacity," she said. But from late 2021, the dance card is relatively open.
Loading
In normal times, Australia has a number of advantages in competing for a slice of the global pie that has resulted from major studios largely abandoning production in Hollywood, including a common language, good weather and well-regarded cast, crew and facilities. But its ability to lure production is ultimately dependent on two other factors over which the industry has little sway: the exchange rate and the location offset available to foreign productions.
For the past few years, the exchange rate has been favourable (anything below US75 cents is deemed attractive). But with a location offset of 16.5 per cent available to foreign productions, Australia's offering sits well below the rebates offered in other countries. The Location Incentive fund effectively tops that up to 30 per cent, on a case-by-case basis.
Ausfilm, which is a joint government-private sector body that liaises on behalf of its 52 member organisations with the major Hollywood studios, has long argued for a permanent increase of the offset to an internationally competitive 30 per cent.
"A location offset is better than a location incentive fund because it gives the producers certainty," says Ms Marks. "We're trying to drive inward investment but also create ongoing and secure jobs – and the only way to achieve a consistent and ongoing pipeline of projects is through an offset that allows these companies to plan ahead."
Loading
Australia's apparent early emergence from the worst of COVID-19 means its attractiveness has stepped up a notch. Most of the projects that have approached Ausfilm aren't looking to shoot until 2021, which is just as well because clearing the already-booked projects will likely take priority.
"The activity itself might not happen immediately, but the opportunity is in the next three months," Ms Marks says. "I hope we find ourselves in a position to capitalise because it really is a present opportunity now."
Follow the author on Facebook at karlquinnjournalist and on Twitter @karlkwin
Get our Morning & Evening Edition newsletters
Karl Quinn is a senior culture writer at The Age and The Sydney Morning Herald.