The company has so far done better than most on the financial front, with close to half of ticket holders opting not for a refund but either to take a credit towards the eventual season or to donate the ticket price to help cover the company's operating costs.
Loading
Even so, with the corp and most full-time staff still employed (for now at least), McAllister says "we're hemorrhaging money like everyone else".
Yet within this moment of crisis there is also opportunity.
From Sunday, the company will stage a virtual season of 14 filmed ballets. Each will play on the company's Ballet TV portal for a week (a handful will play for two weeks) before disappearing. Just like a real ballet season, you'll need to see it when it's on. Unlike a real ballet season, it's free.
"There's only so many people who can fit in a theatre, and only so many shows you can do in a year, so we're thinking people who may not have thought of going to the ballet may think, 'Oh OK, I'll give that a go online'," McAllister says. "It's an opportunity for people to discover ballet, and to maybe be inspired from having seen it online to actually come along and see a show."
For the "real bunheads", as he calls diehard ballet fans, there'll be the opportunity to see how the company has evolved during the past 30 years or so, and how each creative director has stamped their mark on it.
The earliest work in the program is from 1989, when Maina Gielgud was at the helm. There are a couple of works from the Ross Stretton years too, and of course a selection from McAllister's tenure, including his 2015 production of The Sleeping Beauty, which launches the season.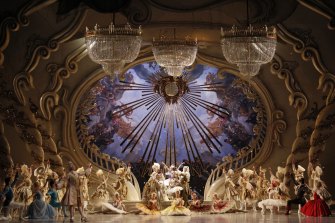 That could look like a captain's pick, he acknowledges. "But it's one of the most recent and we've got a lot of supporting material, behind-the-scenes stuff including a making-of documentary, so it felt like a good way to start."
McAllister is hopeful the company will return to the stage before the year is out, and expects some of what was planned this year to eventually be staged next year. Meanwhile, the dancers are staying fit and doing daily classes. McAllister has recorded some short exercise videos that even non-dancers can follow at home.
One thing that won't change as a result of coronavirus is McAllister's departure date. In fact, his replacement, American David Hallberg, is already in the country.
"He got on the last flight out of London," McAllister says. "He's in splendid isolation at the moment, emerging on Friday, but we've had two video meetings this morning.
"It's great that he's been here," he adds, forever focused on the silver lining. "It's given us a real opportunity to work on the handover."
The Australian Ballet's online season can be viewed from Sunday, April 5, at australianballet.com.au
Karl Quinn is a senior culture writer at The Age and The Sydney Morning Herald.