One longtime Park Street staffer made redundant on Friday described feeling "blindsided" after previously being told by a Bauer executive there would be no redundancies at the magazine they worked on.
"It was completely mismanaged and we have been given very little support," the staffer said.
"I've been given no documentation of my redundancy and HR haven't responded to emails on basic questions about exiting the company."
On Friday, Bauer's planned acquisition of Seven West Media's Pacific Magazines, which publishes New Idea, Marie Claire and Better Homes & Gardens, went through despite speculation Bauer wanted to pull out.
Production of Bauer titles NW, OK!, Elle and Harper's BAZAAR have been suspended for eight weeks with staff stood down without pay. Those out of a job apparently don't qualify for JobKeeper.
It's understood there will be further job loses this week, affecting staff working on PacMag titles.
Cult designer announces pregnancy
Australian designer Lucy Folk is expecting her first child with partner Joffrey Cauchy.
Folk, 35, revealed her pregnancy last week when she shared details of her working from home routine and a photo of her petite baby bump on Instagram.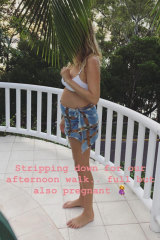 Cauchy, a French native, was up until recently waiting tables at Melbourne institution France-Soir restaurant in South Yarra. The couple are currently residing with Folk's parents Pitzy and Annie at their Noosa holiday home.
Folk moved to Sydney in 2016 to open her Playa (Spanish for beach) boutique in Bondi, stocking her signature fashion-focused jewellery, sunglasses, clutches, and a collection of international labels previously not available in Australia.
In 2012 Folk tied the knot with longtime partner Charlie Inglis in a lavish ceremony on the Great Ocean Road. The couple subsequently split.
Publicity princess Maz Coote announces engagement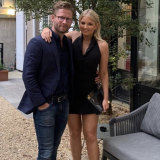 Sydney PR powerhouse and former Sweaty Betty staffer Maz Coote is smiling through isolation after quietly becoming engaged to her partner Brett Barnes.
"18.04.20 – Yes to forever together at this spot @brettbarnes82 – we have been in our own little bubble and on cloud nine, but we are so excited to share with everyone," 33-year-old Coote posted on Instagram alongside a photo of a beach sunset.
The couple are understood to have begun dating last year after being introduced through mutual friends.
But this isn't Coote's first engagement; in 2016, her longtime partner Liam Wilson got down on bended knee and proposed, only for the couple to quietly split a year later.
After exiting Roxy Jacenko's publicity stable in 2014, Maz launched her own publicity firm Coote Connex in 2015, which has seen her become the go-to publicist for beauty and lifestyle brands.
Lucy Manly is a reporter and gossip columnist for The Sydney Morning Herald and Sun-Herald.