The rapper, record label owner, comedy writer, actor and now children's book author still calls Shepparton home, though he spends more time these days commuting between Melbourne and Sydney.
"Melbourne is home, that's where I like to be but Sydney is really good for work, there's a lot of studios I get to access, so I very much live between both. It's a bit harder at the moment, of course … the airports feel like big cavernous buildings, it's like they're there just for you and the people travelling through them are actors and the food is all wax."
His creative output hasn't slowed, despite social distancing and lockdowns grinding live performance to a halt.
His recent collaboration with Tim Minchin on the song HouseFyre has been blazing online and the beautifully illustrated children's book Our Home, Our Heartbeat, based on his song The Children Came Back, was published this month by Hardie Grant.
Briggs will talk about Our Home, Our Heartbeat online at The Wheeler Centre from 6.15pm on Monday in a discussion about the importance of children being able to see themselves in picture books, celebrating Indigenous resilience and honouring legends, past and present.
"The situation calls for everyone to look after each other so that's what we should be focusing on, right?

Adam Briggs
"I'm really impulsive so when I get an idea I want it to happen straight away," he says. "The book wasn't something I thought about for a long time but I knew my songs lent themselves to that kind of format."
Illustrators Kate Moon and Rachael Sarra joined what Briggs calls "a great team". The publishing company "were happy to visualise it, could see the dream and wanted to bring it together".
"I'd written the song already, so I cheated a little bit," he says, with a burst of laughter, adding, "We updated it a little bit by including more women. The original track didn't have a lot of female representation, so I thought, 'If I'm going to do a book about being leaders, I'd probably get a slap from my aunties,' if I didn't include more women."
The book features athlete and former politician Nova Peris, actor Miranda Tapsell and Cathy Freeman, along with other Indigenous leaders including footballers Gavan Wanganeeen and Adam Goodes, musicians Archie Roach, Gurrumul and Jimmy Little, and basketballer Patty Mills.
Following the success of Briggs' second album Sheplife in 2014 and his A.B. Original collaboration with producer and hip-hop artist Trials on their 2016 album Reclaim Australia, Briggs now has new solo music out with the release last week of the song Extra Extra from his forthcoming EP.
The coming Virtual APRA Music Awards will also have Briggs on board, celebrating the best of Australian songwriting from 2019 with an online streaming event at 7pm on May 25.
"Any new avenue to explore is fun," he says, typically upbeat. "I don't see the point in sooking and I don't feel I have a place to whinge. The situation calls for everyone to look after each other so that's what we should be focusing on, right?"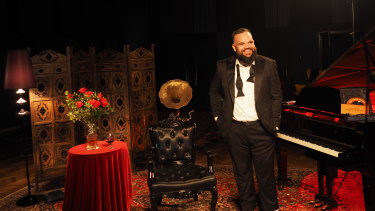 "It's rare that I'm a glass-half-full kind of guy but there's not much I don't get to do. One of the things I try and do as an artist is to look for … what's important to me that people aren't talking about."
Martin Boulton is EG Editor at The Age and Shortlist Editor at the Sydney Morning Herald