CHINESE NEW YEAR CONCERT
Melbourne Symphony Orchestra ★★★½
Hamer Hall, January 31
Now in its seventh year, the MSO's celebration of Chinese new year was on this occasion not immune from broader concerns about the coronavirus: Australian expatriate Matthew Coorey replacing Chinese maestro Yi Zhang at short notice.
These health issues may well have contributed to a less-than-full house. Coorey, however, entered amiably into the spirit of the proceedings, impressing with his effective but economic gestures.
Subtitled Homage to Beethoven, Variations and Fugue on a Theme of Beethoven by Chinese-Australian composer Julian Yu was an apt curtain-raiser, melding together Chinese melodies with Beethoven's and demonstrating the composer's fine abilities as orchestrator and contrapuntalist.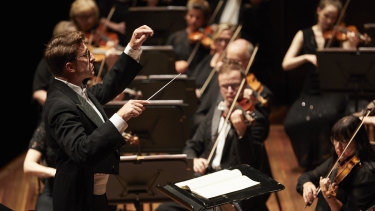 Based primarily on the famous C-minor variations, there were some unsubtle references to the master's Fifth Symphony as well as allusions to Bach and Britten. Equally colourful was the third movement of Chu Wanghua's Silk Road Symphony.
Pianist Jieni Wan brought an impressive technical apparatus to the solo part of the famous Yellow River Concerto. While it may seem an obvious choice for an East meets West concert, this was the orchestra's first performance of the work. Coorey elicited plenty of colour and energy, but there were moments when Wan might have contributed greater depth of tone and been more attentive to the overall ensemble.
Although lacking references to haggis and Hogmanay, Mendelssohn's "Scottish" Symphony, with its folkloric aspects, made for a thoughtful finale. The orchestra responded well to its alternating calls for solemnity and brio; the finale providing a musical expression of hope for the year ahead.