Today's entertainment reporter Brooke Boney weighed in, arguing that while there is a problem with the representation of black people on screens, removing shows does not help society move forward.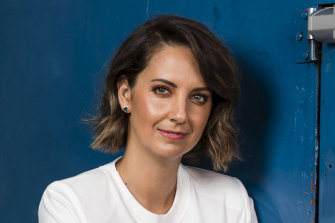 "If we are going to go back through history and start removing things that are inappropriate by modern standards, then we are going to have to get rid of all those movies by Harvey Weinstein or music by Michael Jackson," she said.
All in the family
For an event thrown together in 48 hours by publicist Max Markson, City of Sydney councillor Christine Forster's book launch on Thursday was a surprise success.
Hosted by newly-minted 2GB breakfast presenter Ben Fordham at Manjits restaurant in Barangaroo, the launch included a trip down memory lane with Forster's brother, former prime minister Tony Abbott.
"I'm told … one of my favourite tricks was to bring a plastic sword into bath time and administer summary justice," Abbott said of their childhood, though he believed this might be a "false family legend".
Among the crowd: state Liberal pollie Shayne Mallard, incoming Insurance Council boss Andrew Hall and The Voice contestant Carina Grace.
The book, Life, Love and Marriage, covers Forster's speeches and opinion pieces, including on the sensitive subject of same-sex marriage. She married Virginia Flitcroft in 2018.
Later, Abbott said his sister would make an excellent lord mayor of Sydney if she ran next year – though he was unsure how his own turbulent political career had affected hers.
"I suspect I've been an asset and a liability at times," he told Emerald City.
"Who knows what I am at the moment, but I was very honoured to help launch the book."
Romance is over for Sydney glamour couple
After months of speculation, actress Nathalie Kelley and her husband, Jordan "Jordy" Burrows, have quietly split.
Emerald City is told the genetically blessed couple separated in recent months as the Dynasty actress turned her focus to her career in the United States. Her estranged husband, a DJ and hospitality consultant, has moved to Byron Bay.
The former couple's cool Bondi social circle suspected the relationship was on the rocks because Kelley and Burrows hadn't shared photos of themselves together on social media since mid-2019. The couple met in 2018 and had a whirlwind romance, with the 34-year-old actress proposing to Burrows after dating for a few months.
They tied the knot one month later on Sydney's private pontoon The Island in front of guests including interior designer Jade Yarbrough (aka Karl Stefanovic's sister-in-law) and Dynasty co-star Rafael de la Fuente.
Friends of the couple say the marriage became strained by distance, with Kelley and Burrows pursuing their respective careers on opposite sides of the Pacific Ocean. Kelley returned to Sydney for the Christmas and New Year break, and the former couple were seen dancing and spinning tunes at Icebergs' famed New Year's Day Party.
Since splitting, Burrows has taken time away from the DJ decks and is living with Flight Facilities frontman James Lyell, fiancee Chelsee and their newborn, Louie, in Byron while the Los Angeles-based Kelley has been promoting her Netflix TV show The Baker and the Beauty.
Kelley and Burrows did not respond to requests for comment.
Get our Morning & Evening Edition newsletters
Lucy Manly is a reporter and gossip columnist for The Sydney Morning Herald and Sun-Herald.