My listening habits have changed as well. With the outlook in the United States so bleak, I've had to jettison some news podcasts from the US and I'm listening to more comedy.
"I can understand that — it starts to wear on you," says Amy Donaldson of Two Shrinks Pod. Donaldson and Dr Hunter Mulcare have released two excellent podcasts on dealing with the stress and anxiety we're all feeling, as well as providing mental health resources for their listeners. Even during a pandemic, Two Shrinks Pod has the fun banter that makes me love the show and recommend it constantly.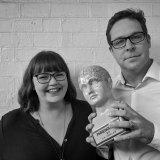 "In recording our first two COVID episodes, we disclosed far more about ourselves than we usually would," says Donaldson.
"As psychologists, we tend to be careful about self-disclosure, but we wanted to be open that everyone is finding this tough, even mental health professionals."
Emma Race of The Outer Sanctum is still producing a footy-themed podcast each week, while no football is being played.
"The audience has been sending us audio notes which we have been including on how they are coping," says Race. "Of course our content has changed given there is no sport. We have added a new part to the pod which is called the 5th Quarter where we discuss books, podcasts, tv, films, music.
"I don't have [listening] data but our audience is just as voracious for content; their feedback is that listening to us makes them feel 'normal'."
Mandy Hose of Too Peas in a Podcast is still creating weekly shows, but isn't listening to any of her favourites right now.
"Not commuting, [while] homeschooling or having a house full of kids and family means listening is increasingly difficult for us all," she says.
"I have children with disabilities so online learning is extremely challenging."
Still, her podcast remains as optimistic as ever.
While I am avoiding news podcasts, like most of Australia I have fallen in love with Dr Norman Swan and Tegan Taylor, the hosts of ABC's Coronacast. Coronacast is short, informative and somehow manages to lower my anxiety with each listen — remarkable given the subject.
Loading
For a different look at coronavirus and the global lockdown, I would highly recommend Reply All's Attic and Closet Show, Ross and Carrie Stay Home, Heavyweight Check-In 3, Science Vs Coronavirus: Was It Made In a Lab? Parents should subscribe to Parental as Anything. Recent episodes have included many tips for dealing with children while attempting to work from home.
https://blog.pocketcasts.com/guest-lists/peter-wells/
Peter Wells works at Swinburne University and is a technology commentator in his spare time. He is an award-winning journalist who currently appears on the Daily Tech News Show.