You've heard the saying. Now it's time to hold it to the test.
In anticipation of the next edition of The Other Art Fair Dallas, we're here to highlight the exhibitors based in the Lone Star state. Now grab a margarita and get to scrolling. The best emerging and independent Texan artists await!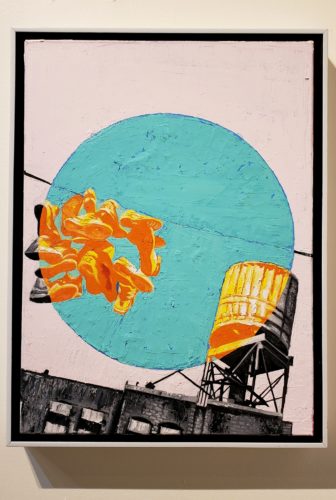 Williamsburg Water by Raphael Crump | $2,670
Raphael Crump is a painter, originally from NYC, who now works in Dallas, TX. His love of sneakers inspired his paintings of luxury sneakers/shoes hanging by their laces in urban settings. He has since developed into telling the story of life and growth in the concrete jungle, specifically highlighting the struggles and accomplishments that have directly impacted his life. See more of Raphael's work here.
---
Lavender on Blue by Polina Novozhenets | $10,000
Polina Novozhenets is a self-taught artist who creates vivid three-dimensional paintings of knotted ribbons. She plays with abstract representations of entanglement, resulting in compositions that range from dense and complex to straightforward and familiar. Polina was born in Belarus and spent most of her life in New York after immigrating to the US as a child. She moved to Austin in 2011 and has been painting professionally since 2014. See more of Polina's work here.
---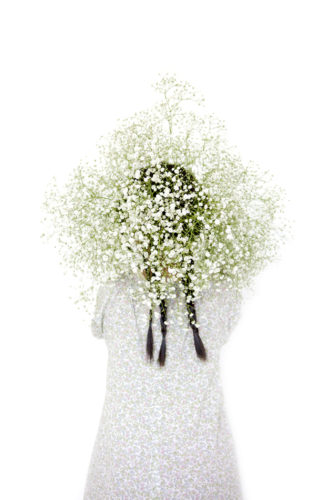 Scent of Broq-pa 05112016 (Limited Edition of 15) by Ziesook You | $573
Since 2016 Ziesook You has been working on the "Scent of Broq-pa" project, which expresses happiness through the coexistence of humans and nature, with people from various walks of life. She prefers to work in continuous series in which layers accumulate over a long period of time, examining time, space, nature and life.  She is currently working in her Dallas area studio. See more of Ziesook's work here.
---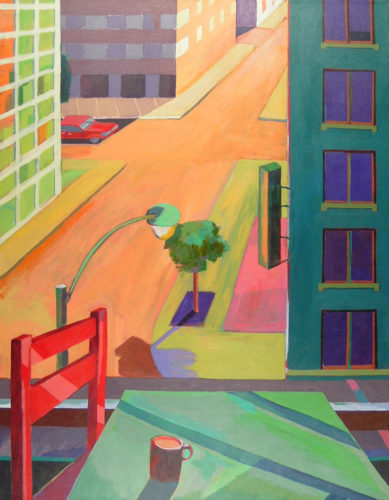 Red Chair and View of the Street by Patty Rodgers | $1,462
Patty Rodgers is inspired to paint places and things around her. She is especially struck by the way light falls on a space and on the objects within it. Her paintings are about color and how the colors create a flat abstract design, all the while portraying distance, form, and light. As part of her process, Patty looks for geometric designs within the canvas and continues painting until the result is a satisfying combination of aesthetic elements. See more of Patty's work here.
---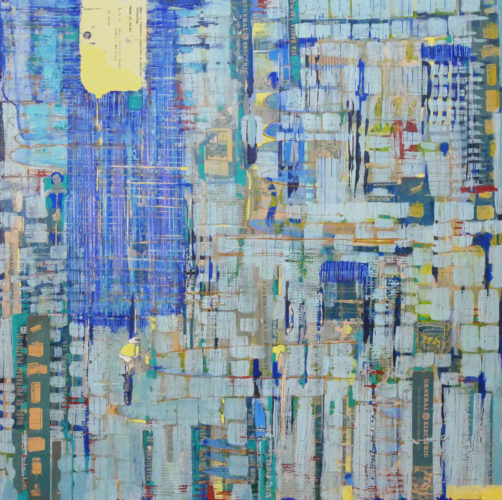 General Domestica by Kristy Battani | $1,100
Kristy Battani finds her inspiration in deteriorating layers of tactile information, both in form and substance. She seeks to excavate, capture and recreate those discoveries in her work. She is constantly exploring how she can interact, both physically and emotionally, with those layers through the creation of multimedia paintings and artworks. Her process is both additive and subtractive as she is frequently building layers and then aggressively scraping them away to discover small, unexpected nuggets of truth. See more of Kristy's work here.
---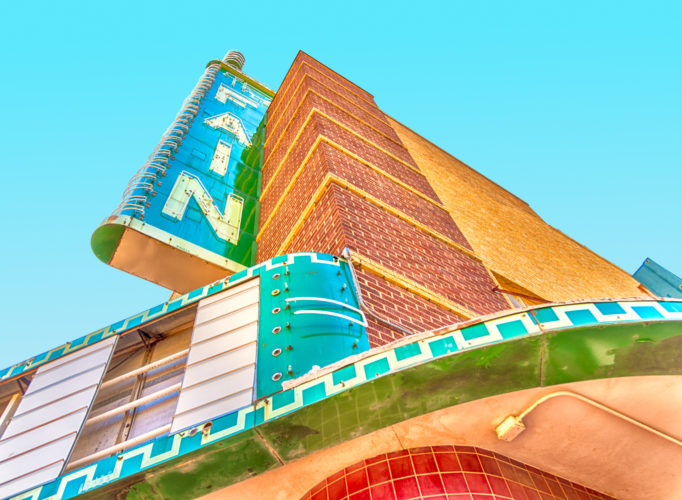 Fain Cinema by Bogdan Mihai | $520
Houston-based photographer, Bogdan Mihai, is a recent immigrant to the US from Romania. He received a degree in journalism, and spent many years working in television, freelance photography, and video production in The Emirates, New Zealand, the US, and Russia. Since moving to Texas in 2015, he has opened his own video production and photography studio.  As a fine artist, Bogdan works with strong narratives and place, and has explored various themes over the years. See more of Bogdan's work here.
See the full collection of Texas-based artists on SaatchiArt.com and discover more independent artists at The Other Art Fair Online Studios.
Introducing… The Online Studios – The Other Art Fair, delivered to you. A new online platform offering art lovers around the world access to over 800 Fair artists, The Online Studios will keep our community feeling inspired, engaged, and continue to spread joy through art.