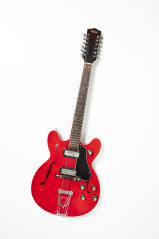 "It's a story of design, artisanship and manufacturing but most importantly it is about music and how an instrument, a song, a musician can become one person's personal obsession," the museum's chief executive officer, Lisa Havilah, said.
The exhibition, Maton: Australia's Guitar, draws on the personal collection of Wadih Hanna, who fell in love with the brand more than 20 years ago when his wife Lucy gifted him one for their engagement.
Hanna meticulously and tirelessly sourced specialist and rare guitars to create what Powerhouse curator Damian McDonald regards as a historically important documentation of Maton's history.
The collection's centrepieces are the first electric guitar Maton ever crafted, custom-made for musician Jack Wilson; the first acoustic guitar ever to roll off the Maton production line; and some of the rarest Matons still in existence, used in the heyday of Australian jazz, folk, rock and country.
From the Powerhouse's own collection is Harry Vanda's lead guitar used to write Friday on My Mind for the Easybeats. The red electric guitar was interchangeably used by Easybeats co-founder George Young, according to McDonald, who describes the show as a guitar lover's dream.
"The instruments in this exhibition are beautiful, they're sexy and they are remarkable examples of the craftsmanship of Bill May and his luthiers," McDonald said.
Musicians Keith Urban, Missy Higgins, Colin Hay, John Fogerty, the Rolling Stones' Keith Richards, and Led Zeppelin's Jimmy Page are all fans of Maton guitars but it is with Tommy Emmanuel that the Maton acoustic guitar is most associated. The show includes the guitar gifted to Emmanuel by his father, Hugh.
Australian songwriter Tex Perkins got his first Maton 25 years ago and played a specially-made guitar at the MCG on Anzac Day in 2017, crafted from a broken limb of the Lone Pine tree from the Gallipoli battlefield.
"It was brought to me on stage and then taken away, I literally spent no time with it," he said.
Loading
For his rock and roll appearances Perkins plays a Fender Telecaster, but he casts an admiring eye on the show's jungle green electric Fyrbyrd, circa 1965. "Gee, I'd love that thing. It looks well beaten."
Gordi, otherwise known as Sophie Payten, said the wood from which a guitar is crafted makes a huge difference to the tones produced. Her plywood Maton makes for a bright, full-body sound – those with darker woods make for denser intonation.
After playing at the Sydney Opera House on Saturday, the qualified junior doctor will bring her guitar to Melbourne, where she has signed up to work in COVID-19 clinics and emergency departments.
"It comes with me everywhere," she said. "I'm so fond of it. A guitar bumped on it and caused this little tear in the back of the wood, which we had to repair with glue. It was like a part of me was injured."
Linda Morris is an arts and books writer at The Sydney Morning Herald