The photo comes from the extensive work Moir did covering the recent bushfire emergency. Entitled Run, it depicts the terrifying moment two firefighters were forced to flee for their lives in the face of an ember attack at Orangeville west of Camden.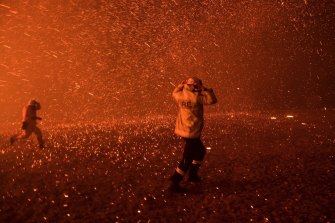 Sydney-based photographer Fiona Wolf-Symeonides has been named overall winner in the Portrait category.
Wolf-Symeonides, who was also successful in 2010, won with her image entitled The gift, RHW 2020. In the shot two fathers celebrate the birth of their new-born daughter who lies in the arms of her surrogate mother.
Head On celebrated its 10th anniversary last year. This year's festival, which officially opened on Friday night, is exclusively online due to the coronavirus crisis.