The group of stallholders also engaged Transport for NSW about signing a direct lease if Carriageworks fell over.
Mr Cains, who has traded at the market for nine years, welcomed the government's lease announcement but said: "We must think about safeguards and we must lock in better communication and consultation."
Many regional fresh food producers were in financial distress and "champing at the bit" for a return to trading, he said.
Mr Cains said sales of his sheep's milk cheeses at the Carriageworks market represented about 15 per cent of his income, but for other small farmers and market gardeners sales there provided up to half.
"If you are a producer who runs a little market garden and if what you do is farm on weekdays and sell on weekends, Carriageworks is a big slice," he said.
"Many of these producers have got direct restaurant customers and are selling direct to consumers at Carriageworks – and both of those revenue streams are compromised. Restaurants are not back to full capacity and Carriageworks is not operating.
"I've taken calls where I can hear a slightly shaky voice and a slight tinge of desperation, hoping like anything the market gets back and operating as soon as it can. They are the people you really feel for."
Carriageworks chief executive Blair French reaffirmed to stallholders his intention to reopen the Farmers Market with COVID-19 safety precautions as a matter of urgent priority once the venue emerged from voluntary administration.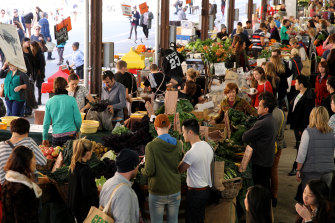 "A strong and viable Carriageworks is our plan A, but we are worried that should funding difficulties re-emerge in years to come that there should be a plan B so the market can persist and endure beyond the wider arts program," Mr Cains said.
"Lately, producers have felt more and more peripheral to the precinct's art activities."
The farmers penned an open letter to KPMG, Carriageworks management and the board, outlining their concerns around delays. Representatives approached Transport for NSW for a separate lease in case Carriageworks went into liquidation.
The new association wants stallholders to run their own committee and have a representative seat on any new Carriageworks board.
It has called for a rebalancing of the market's core values, noting that regional and farmer stallholders were fewer, proportionally, than they once were.
"We believe that this trend is an unfortunate departure from the essence of the Carriageworks Farmers Market," their letter said.
Mr Cains said the producers' association had been buoyed by the positive response of administrators and the executive.
In a response to the open letter, Mr French pledged that Carriageworks' food and marketing teams would be among the first staff to be brought back to work and promotions of the much-loved Sydney institution would be driven through its media partners and tourism agencies.
After news broke of government support, Mr French acknowledged the impact of the process upon staff, artists, suppliers, farmers and producers and said he looked forward to re-engaging its community with "renewed confidence and strength into what of course remains a difficult operational environment constrained by COVID-19".
Linda Morris is an arts and books writer at The Sydney Morning Herald