The existing quota system requires the free-TV networks and the pay-TV providers – but not the ABC, SBS or the SVOD services – to produce a minimum amount of local content each year. The regulations currently mandate that, each year, the commercial broadcasters show 260 hours of children's programs and 130 hours of preschool programs, 250 hours of first-release local drama and 24 hours of children's drama. A crazy loophole allows New Zealand productions screened here to be included in these tallies.
Pay-TV providers have a lighter load. Subscription-TV drama channels are required to invest at least 10 per cent of their total program expenditure on new Australian drama.
With the shutdowns of production due to the pandemic, the government in April suspended quota requirements for 2020, in recognition of the difficulty networks would encounter in meeting the targets. However with a review currently under way, there are fears in some quarters that the quota system will be permanently jettisoned. That would certainly satisfy the free-TV networks, which have campaigned for their removal.
Within the industry, there is general agreement about one thing, which is "reform stagnation": that the rules introduced in the 1960s are no longer appropriate. They do not, for example, take into account the decline in audience numbers for free TV. And they also do not recognise the arrival of the SVOD services, which have been under no obligation to invest locally in a market that they profit from.
To date, the proliferating streaming services – Netflix, Stan, Prime, Disney+, Apple TV+ – some of them global giants, have escaped such requirements. They shouldn't. And now, more than ever, investment in the Australian industry is critical to aid in its revival, if not ensure its survival.
A look at how this issue has been handled elsewhere is instructive. The European Parliament voted in 2018 for a local content quota to be applied to streaming services. Dubbed "the Netflix quota", it requires SVOD providers to produce content in the markets in which they are available and to have local content available in their libraries. In the 28 member countries, 30 per cent of all content needed to be of local origin, a move that has boosted original production and local acquisitions. Why such a move has not been made here is a mystery worthy of Sherlock.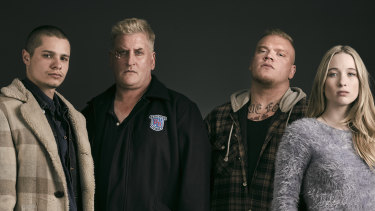 Some SVOD services have made efforts in that direction, although these are entirely at their discretion. Stan, a home-grown player among big international operations, has commissioned productions including No Activity, Bloom, Romper Stomper, The Gloaming and The Commons, as well as specials featuring local stand-up comedians. (Stan is owned by Nine, which also owns this masthead).
Netflix has made Tidelands and Lunatics and co-produced series such as The Letdown, Glitch, The InBESTigators and Pine Gap. Amazon Prime has invested in the comedy contest Last One Laughing and the movie The Very Excellent Mr Dundee.
But it's not a huge list. And given that SVOD viewership has been growing while free-TV audiences have been declining, one can understand the indignation of the traditional broadcasters about having to carry the load. However they should be made to share it.
Loading
The free-TV networks want the quotas removed and Netflix has argued against regulation. Which they would do, wouldn't they? What industry, or sector of an industry, wouldn't prefer self-determination to government intervention?
But for the benefit of the sector as a whole, as well as the nation that enjoys its output, reforms that have long been required have now become more vital. In 2018, the industry – producers, directors, writers, actors, crew members – united to participate in the Make It Australian campaign. More than 200 screen-industry figures signed a petition urging the government to take action in three key areas, the first being "to evolve content rules so they cover new media like Netflix, Amazon, Telstra TV, telcos and ISPs".
Their statement read, "Our ability to keep telling Australian stories on screen is at risk, our voices in danger of being drowned out by a deluge of overseas content."
Since then, nothing has changed in terms of regulation. But the state of the industry has become more precarious and the pandemic has made the situation worse.
Government action, long overdue, is now urgently needed.