There's also a strong dose of the spirit that embodied punk: fierce passion, and anger. Perhaps none more so than former Sex Pistols singer John Lydon (Johnny Rotten), who remains as combative as ever, well into his 60s.
Lydon, who makes his first appearance in the second episode, which focuses on the emergence of punk in Britain, manages to insult the media, former Sex Pistols manager Malcolm McClaren (no surprise there), and several fellow musicians in the space of 15 minutes.
At an event to launch the series last year in the US, featuring a panel of musicians who appear in Punk (Black Flag's Henry Rollins, Donita Sparks from L7 and Guns N' Roses bassist Duff McKagan among them), Lydon got into a furious argument with Marky Ramone, (shouting "You're not even a real Ramone!") which quickly devolved into a slanging match such that the two had to be physically separated. It's well worth searching for online as a fitting chaser to the series.
As well as Lydon, this week's episode features a slew of British punk legends, among them David Vanian from The Damned, The Slits' guitarist Viv Albertine, filmmaker/DJ Don Letts and The Clash drummer Terry Chimes.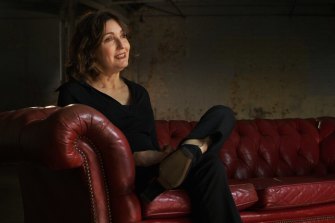 While "all roads lead to Iggy Pop", as Letts puts it, the British take on punk was all-encompassing; more than just the music, it was echoed in the fashion and the politics. As the Ramones struggled to find a bigger audience than the few hundred who would fill CBGB each week, punk exploded in Britain once The Sex Pistols came to embody the movement; this episode takes in their brief rise and fall. Some of the best insights come from veteran music photographer Bob Gruen (best known for his John Lennon New York City T-shirt shot), who bravely joined their US tour.
Loading
But there was also the proliferation of female artists, including The Slits, The Runaways (as Joan Jett says, "the idea of girls playing rock and roll is as punk as it gets, even if you don't think the music is punk"), Patti Smith and more. And there was The Clash, who melded reggae sounds with punk attitude, creating a more inclusive scene and trying to engender social change through music.
And then, of course, there were the drugs; this episode takes us up to the break-up of the Pistols and the infamous Sid and Nancy tale of squalor; the nihilism that, according to Letts, really ended the movement, by confirming what punk's critics thought of the scene. The series continues with later evolutions of punk, including the "hardcore" movement in the 1980s and mainstream players like Green Day and Nirvava in the '90s.