Mark Kilmurry, artistic director of the smaller Ensemble Theatre in Kirribilli, echoed McIntyre's sentiments.
Loading
"It just doesn't work for us," he said of the four-square-metre rule. "If we did that we'd have something like 42 people in the auditorium and 31 in the foyer. Social distancing economically just doesn't make sense."
Sue Donnelly, executive director of Belvoir St Theatre, said they were considering a small show for mid to late July but ultimately they needed to reopen without social distancing to make it financially viable.
Many small music venues also said they would be hobbled by the floor area rule despite the cap being lifted.
"It feels like [small venues] have been completely and profoundly ignored by the lawmakers," said Yaron Hallis, co-owner of Marrickville's Camelot Lounge. The venue, which has a normal capacity of 160 people, would only be able to fit 20-30 people when adhering to the four-square-metre rule.
"It's not sustainable for venues of our size to be open. If we're looking at hosting 25 people, that doesn't work: we just wouldn't be able to pay those musicians properly, and also it wouldn't work for us in terms of being able to pay all the staff needed," added Hallis, who is also a vocalist of ARIA-winning fusion band Monsieur Camembert.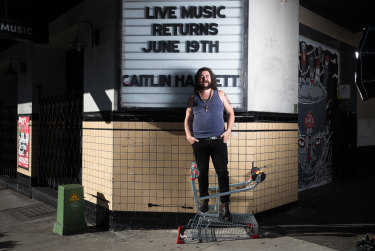 Alison Avron, musician and owner/director of The Newsagency in Camperdown, which has a usual capacity of 100 people but just 75 square metres of floor space, was similarly discouraged.
"We're going to be among the last venues to be able to reopen. We rely on crowds; that's our business model. We rely on people getting sweaty together. We're not allowed to do that," she said.
"It's difficult to say when we can come back, because it's difficult to say what a live gig will look like in the new climate. You don't go to a live music event to stand 1.5 metres away from someone. That's not a vibe. You want to squeeze up against people. You want to cry on someone's shoulder 'cause that wonderful ballad you heard on Spotify is now being performed live to you in a really intimate setting and you're one of a few hundred people sharing in this real moment.
Loading
"That to me is the point, culturally, that needs to be addressed… What we're offering is an experience. I don't know if I – personally, as a gig-goer – really want to go to see live music while there are so many rules."
However, in one bright spot in an otherwise gloomy picture, on Friday The Lansdowne Hotel is set to stage its first live gig since the storied inner-city venue closed its doors to music fans on March 15.
Just 50 people, all seated and appropriately socially distanced will be allowed into the Chippendale pub to hear alt-country favourites Caitlin Harnett & The Pony Boys, but it's a huge step forward, said venue co-owner Jake Smyth.
"People have been hungry for this and I think we'll see a real explosion of emotion on Friday night," he said. "I've got a great deal of confidence that the community that surrounds Caitlin Harnett aren't just going to sit and have music played to them and just clap politely in the pauses. I hope there's a lot more audience interaction even while they are seated."
Anthony Dunsford, general manager of Playbill Venues which operates the Hordern Pavilion at Moore Park, said the venue will reopen to functions including charity events and live sports such as boxing from July 1, but it "will struggle to develop a financially viable operation for live entertainment at such a small capacity" as defined by the four-square-metre rule.
Dunsford said that with such distancing requirements, the Hordern's normal capacity of 5,500 patrons would be reduced to "between 1000 and 2000 people: roughly 30 per cent of our capacity at best case".
"We are hopeful that music concerts at the Hordern will kick back off in October and November 2020," he said, but added that "with the four-square-metre rule in place, it may be challenging for music promoters to deliver gigs that are financially viable."
Robert Moran is a culture reporter at The Sydney Morning Herald and The Age
Nick Galvin is Arts Editor of The Sydney Morning Herald