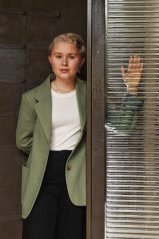 In the Dendy Awards for Australian short films, Scanlen won the Rouben Mamoulian Award for best director for Mukbang, a drama about a schoolgirl getting caught up in the sexually-charged trend of binge eating food online.
It is the first film as writer-director for the 21-year-old star of the American TV series Sharp Objects and the Hollywood movie Little Women.
The jury of actor-producer Bryan Brown and directors George Miller and Sophie Hyde described Scanlen as "a director with a fresh voice" who "guided a very strong central performance toward a surprisingly warm ending".
Alex Wu won best live action short for Idol, a drama about a Chinese pop singer dealing with the suicide of a fan, which the jury praised as a surprisingly moving film that was "a single contained shot balanced by the strength of the writing and performance".
Directors Sara Hirner and Rosemary Vasquez-Brown won the Yoram Gross animation award for GNT, which was described as a "disarming and fearless film that showcases the talent of its makers who control the anarchic tone with strength and humour".