Heroin addiction intervened, but when Haden recovered he found himself in the bands of both Coleman and virtuoso pianist Keith Jarrett. He also became a relentless warrior against racism, oppression and militaristic US foreign policies, being briefly jailed in 1971 after daring to call for the liberation of then-fascist Portugal's African colonies during a Coleman concert in Lisbon.
In 1969 he formed Liberation Music Orchestra (LMO), he and pianist Carla Bley crafting suites melding Spanish Civil War songs with original material, including Haden's great lament for Che Guevara, Song for Che. Intent on making major statements, Haden waited 13 years to unveil their second album, The Ballad of the Fallen which, while less intense, was more complete in conception, execution and sound quality. Among many highlights is If You Want to Write to Me, with Cherry scattering trumpet notes like tears from one shaking their head as they grieve.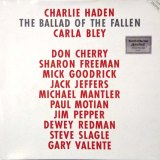 Through the '70s Charlie continued with Jarrett (hear the soulful Treasure Island and the mind-bending The Survivors' Suite) and with Old and New Dreams, a gathering of Coleman alumni that unforgettably came to Australia in 1980. Across the years he also made many duo albums, including the must-have Closeness (his bass with Alice Coltrane's harp being among the glories of recorded music), and Beyond the Missouri Sky with guitarist Pat Metheny, which gave vent to his hillbilly background.
Those country roots had first emerged on the early Ornette composition Ramblin', from which Ian Dury pinched Haden's solo for his 1977 hit Sex and Drugs and Rock and Roll. (Although Drury offered the bassist no royalties, he always dedicated the song to him in concert.) Meanwhile Haden's LA band, Quartet West, drew on Charlie's love of film noir and gorgeous melody (Always Say Goodbye), and the LMO continued to prosper until his death in 2014, with Live 1993 only newly released (available from Birdland Records).
In a 2009 interview Charlie told me that the people with the biggest impact in music are those who make their instruments sound as they hear them in their heads. His own magnificent sound was allied to simplicity, propulsive rhythm, solos of monumental sadness, and an ability to impose form on abstraction.
In 2008 arguably the greatest jazz bassist of all finally returned to hillbilly music, making Rambling Boy (also the title of an enthralling documentary about him) with his grown-up children and such collaborators as Elvis Costello. It seems you can take the boy out of the country, but you can't take the country out of the boy.
The Ballad of the Fallen streams on Spotify and Apple Music