"We're stoked with ReachOut's involvement, knowing that we're shining a light on their free online services available for young people whenever they need them."
On Saturday, the third instalment of The State of Music comes with a star-studded cast of Australian artists, including live performances from Paul Kelly, Tim Minchin, Courtney Barnett, Meg Mac, Tim Freedman, Mo'Ju and more.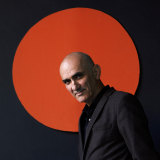 Hosted by Jane Gazzo with Tim Minchin from 7pm on YouTube, Facebook and together.voc.gov.au, The State of Music also features exclusive artist interviews and previously unseen footage of Kelly's Making Gravy tour from last year.
The Live, Loud and Local series on Saturday night hosted by Joel Creasey and Myf Warhurst has Jon Stevens performing live from 8pm AEST at Perth's Sandbar.
On Sunday night the folks from Delivered Live bring live music, great food and good times together with the Recharge 2020 Festival.
This huge online festival takes entertainment in isolation to the next level, with Henry Wagons touring fresh food markets and meeting local producers, and chef Adrian Richardson cooking up a storm. You'll be able to order a box of fresh produce or any of the drinks you've seen on screen via vicfm.rechargevic.com.au
The list of live entertainment includes Tones and I, Missy Higgins, the Jezabels, Ainslie Wills, the Black Sorrows and a pre-recorded performance from Archie Roach playing songs from his ARIA winning debut album, Charcoal Lane.
"Revisiting Charcoal Lane for its 30th anniversary is great … it was an extraordinary time for me making the album and it's really great to be part of Recharge 2020," Roach said.