Repeated plants is one key to the success of a leftovers garden. The other is the use of circles in the ground plan. "A curve has a much more fluid, continual line than anything on the square, which has endpoints. Here, nothing stops your eye; everything keeps going," says Landsberg. Coupled with the repeated plants, the curves allow the eye to link the disjointed bits together.
A sense of fluidity starts at the circular car-turning space, where concentric circles of cobbles ripple through the paving. The garden here has been pushed right up against the boundary fence. At its slimmest, it's just 600 centimetres wide, but the planting layers give it a sense of depth and generosity. Joining the dominant plant trio here are bamboo, crassula, asplenium (bird's nest fern), neomarica (walking iris), arthropodium (rock lily) and the big, shiny, round leaves of farfugium (tractor seat plant).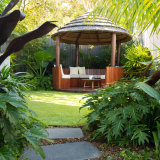 Beyond the pool, an oddly shaped space is squeezed between the house and the boundary fence. "There are often weird angles in a small space and if you put a circle in that space, paths can come off that coherently and you can have pockets of planting around the circle," says Landsberg. The circle here centres an entertaining area with more lush planting and a circular gazebo in the South African style, referencing the clients' backgrounds.
Stepping stones lead from here along the back of the house, pausing at a final grass circle. This one acts as a kind of landing, and doubles as a putting green, before stairs lead back to the circular car court.
The planting and design allow the house to rest among greenery, despite its looming presence, proving it is possible to make a garden out of leftovers.