They came up with a drawing competition, asking people to create works inspired by Heide artists, the likes of Sidney Nolan, Mirka Mora, Albert Tucker, Joy Hester, Danila Vassilieff and Charles Blackman.
Every week during the past month, works have been sent to Alibrando, with the best six or eight featured on Instagram. She says it has been "more than just a competition, it's been a way people can really connect".
Bee Stephens took out first prize for a portrait of her partner, loosely based on Sidney Nolan's work. Syed Zaidi won the under 18s with a self-portrait inspired by Erica McGilchrist, and, in the children's category, eight-year-old Luca Barakat won forThe iPad and Me, inspired by Joy Hester. Natalie H's work, also inspired by Hester, was highly commended.
Stephens called her work The Modern Bushranger and while she says she "didn't really crack Nolan's style … the subject is somewhat aligned". "As an artist [Nolan's] work confronts and challenges the status quo, raising important questions about modern life in Australia. A bushranger of the mind, maybe?"
This Saturday, a clay challenge begins, with people asked to make a vessel in any shape or size, from the traditional by John Perceval through to Melinda Harper's colourful and contemporary. A winner will be chosen at the end of the month, and a painting challenge is planned for June.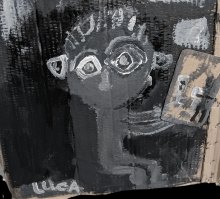 In the lead-up to Mother's Day this weekend, Heide curators have invited children to create concrete poetry as a gift or a tribute; it is home to a significant collection of concrete poetry created by Sweeney Reed. On the museum's website are photographs of letters of the alphabet, which can be printed and used to create poems, as well as ideas for using everyday items easily located around the house.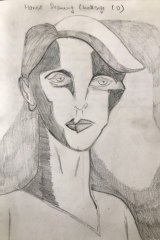 Casting further ahead, Heide and landscape architecture studio Openwork have announced exciting news for lovers of the outdoors. Inspired by Heide founder Sunday Reed's love for her garden, a new healing garden will be created on the museum's grounds.
Circular in design, it is located between Reed's original heritage-listed kitchen garden and the brick wall of Heide cottage and will take on board social distancing considerations.
Loading
Six distinct areas will be planted including a scented section with strongly fragrant plants, a sensory kitchen garden, a Haptic play garden with a tactile water play area, an Indigenous garden and a wild garden made up of climbing roses.
The final and largest area, known as the Meadow, draws on the New Perennial and herbaceous gardens movement.
Funding for the garden came from the Shine On Foundation and the museum's fundraising, together with pro bono work from Open Work landscape architects and John Cronin from Stone Edge Landscapes. It is slated to open in late 2020.
Kerrie is a senior culture writer at The Age and The Sydney Morning Herald