COVID-19, on top of Black Lives Matter, on top of the horrendous bushfire season: it's not just a series of news reports. They have changed us.
"Nothing is as it was before. Sometimes when we pick [a script] up, immediately it's apparent that this is no longer valid.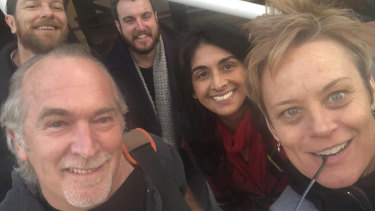 "Art holds up a mirror to life, but is the mirror broken? We want to wrestle with the idea of what texts are going to be important to bring to audiences."
It was surreal, Garner says, when they were still able to go into the theatre, which the Melbourne Theatre Company opened for them. "It's a very dead arts precinct down there in Southbank. The wind is literally whistling down the empty streets. But going into that space has been a salve – like bringing a bit of life back."
The Victorian government has now recognised Unleashed with a grant from the $4.7 million Sustaining Creative Workers program, whose first tranche supported almost 400 recipients; the second will go to 373 more.
Arts Minister Martin Foley says the program aims "to keep body and soul together, and position us for what's likely to be a very different post-COVID [performing arts] model".
He points to the July 2020 results from Patternmakers' Audience Outlook Monitor, in which almost two-thirds of Victorians surveyed said they would only resume attending arts and cultural events when rates of new infections were near zero, or a treatment or vaccine was broadly available.
A "back to basics" slate of digital or small-scale community theatre was likely to be the pattern for some time, Mr Foley said – with smaller audiences in outdoor venues, or venues closer to where people live. Unleashed was one of many groups looking to play a part in that.
"Giving creatives their rein is what governments need to do," he says. He also pledges that when the time comes, his government will underwrite and support the reopening of venues.
In the meantime, Garner says her group can "push the boundaries right now".
"We can't just stop and wait for the bricks-and-mortar companies to save us. We need to think on our feet and respond to what's happening around us."
And they have a vision of warm summer nights; an audience gathering to watch "gripping, edgy stories".
"We're asking, what would we do if we could, what would our heart's desire be? And one day we want to be 'unleashed' in the truest sense: take theatre to the people in a COVID-friendly way, probably outdoors, operating independently in a lo-fi budget kind of way. A broken-down form of theatre that's really for the people."
Unleashed are: Tahlee Fereday, Sonya Suares, Greg Stone, Dan Spielman, John Kachoyan, Nicholas Denton and Nadine Garner.
Nick Miller is Arts Editor of The Age.