The other four Song of the Year contenders are Better in Blak by Thelma Plum, Choir by Guy Sebastian, I Get Up by the Teskey Brothers and Teeth by 5 Seconds of Summer.
Publicly broadcast for the first time, the live-streamed industry event will be hosted by Briggs and feature pre-recorded performances from John Butler and Mama Kin at home in Fremantle, Kira Puru and Mo'Ju in Victoria, Nikka Costa in LA, The Dawn of May in New York and William Crighton in country New South Wales.
"The song I got asked to do is quite removed from what I would generally do," says Crighton, whose professed taste in covers leans towards Neil Young and Bob Dylan. "I did it solo, just myself and the resonator [guitar]. I tried to bring it into my world a little bit; highlight the malleability of the song a bit I suppose."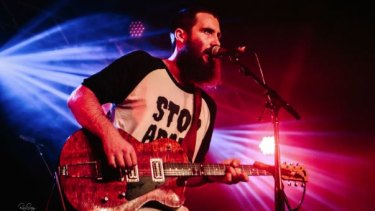 It "actually presented a cool challenge. I enjoyed the process … and it also potentially taught me, don't turn your nose up, you know?" he says a little sheepishly. "It kept me on my toes. So I appreciate Kate's vision on that."
Nikka Costa has been steeped in the art of interpretation for decades. As a child, the daughter of the great conductor/producer Don Costa sang with her godfather – guy named Sinatra – at Reagan's White House. Her latest album, Underneath and In Between, takes everyone from Harold Arlen to Prince to Jeff Buckley in stride.
"For me, it's important to have a connection with whatever song you're doing," she says. "I wouldn't just throw something into a set that I didn't feel I could convey as my own, with my own grounding and feeling. You might not do it that much different to the original; you may not change the phrasing or the vibe but it has to come from you."
Her partner Justin Stanley, who will accompany her on acoustic guitar, points out that composers singing their own songs is a modern idea – Sinatra's credits as a writer are almost non-existent, for example. "If you go back before the Beatles, it was all about interpretation."
The APRA Awards are known for unearthing great singers too. "It is kind of an APRA Awards tradition that there is one performer who is an undiscovered gem," Miller-Heidke says. "It's a brilliant opportunity to expose an emerging artist to all of the most powerful people in the music industry at once."
Last year, Electric Fields' performance of Amy Shark's I Said Hi culminated in "powerful people in suits offering them things afterwards. This year I feel like The Dawn of May is going to make a big impact."
As for this year's iso-factor "that creates interesting opportunities as well, for it to be more intimate and exposed and sort of vulnerable".
Michael Dwyer is an arts and music writer