Meanwhile, with the help of accomplices including Maxwell, who disappeared after his arrest, he lured girls and young women to his homes with offers of payment for "massages", sometimes sweetened by promises of educational or employment opportunities. Many of these girls were vulnerable: "A predator hunts for the weakest," says lawyer Spencer Kuvin, who represents women that Epstein molested.
Inspired by the book by James Patterson, the aptly titled Filthy Rich succinctly illustrates the class divide with a bridge that literally separates the haves from the have-nots. On the island of Palm Beach in Florida the wealthy live in waterfront mansions. Across the Blue Heron Bridge and, as local writer Carl Hiaasen notes, a world away, in West Palm Beach, is a working-class community of rundown houses and trailer parks, where many of the girls lived.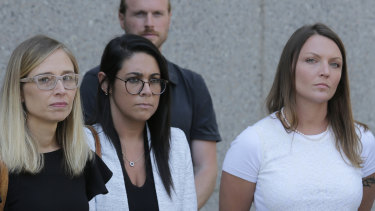 The documentaries differ notably in approach and style. Who Killed Jeffrey Epstein? is tabloid-TV fare that feels like it's yelling at you. It introduces itself with the narrator's declaration that this is "the most twisted story of the decade", its true-crime scenario presented in a blaring, breathless tone: sensationalised, adorned with thumping music, featuring repetitive recapping after anticipated ad breaks and dramatised recreation sequences. When interviewees describe the dire conditions at the prison where Epstein was incarcerated, we are shown images of rats scuffling down a dank corridor.
Made as a three-part series for cable TV but screening here at feature length, it charts Epstein's career in finance, the moneyed men he worked for, the network he built. It then moves on to the views about his death, airing theories about him being a spy and possessing audio and video recordings of people's indiscretions that could be used for blackmail. A couple of forensic pathologists find that his fatal injuries were consistent with homicide rather than suicide.
The four-part Filthy Rich features a range of people who do not appear in the other production, from women abused by Epstein, to police, journalists, authors and lawyers involved with the case. Directed by Lisa Bryant, it eschews a sensational tone as it quietly, clinically constructs its portrait.
Loading
A large part of its focus is on the women whom Epstein abused, identifying them as survivors rather than victims. It allows space for their stories to be told and their voices to be heard. Their pain is palpable as they detail their fears, regrets, anguish and shame. They are both courageous and fragile. Some reveal lifelong damage.
Possibly, as there's no narration to deploy as a linking device, there are too many cliched shots of various women staring out to sea. But the anger they convey is justified because it took so long for any kind of justice to be achieved. Negotiated by a brigade of high-profile lawyers, the 2008 Miami conviction is persuasively, and shockingly, depicted as a sweetheart deal. After Epstein was arrested last year in New Jersey, his death robbed the women of their chance to confront him in court.
Filthy Rich helps to illustrate why documentaries have become such a key, yet unexpected, part of the streaming revolution, which has granted them a new lease on life. One of the early surprises of SVOD viewing patterns was not that people were flocking to big-budget showpieces such as The Crown, but the popularity of back-catalogue series such as Friends and The Office. Now the non-fiction area is also proving a rich seam, especially valuable at a time when documentaries have been rare on free TV, with feature-length productions virtually non-existent.
Already this year we've been treated to cleverly constructed and compelling series such as The Test (Amazon Prime) and The Last Dance (Netflix). Filthy Rich joins a group that demonstrates that the streaming services have allowed documentary-makers the money and the latitude to display their accomplishment as storytellers.