"I am so excited to get back on stage in front of actual people and not just a camera phone in my bedroom," Donovan said. "The coronavirus has taken out an industry that will never back down or give up the fight. The music entertainment industry is continuously trying so hard to keep everyone entertained and distracted from the reality that has now become a new kind of normal."
Mr Holmes said four NSW venues and four in Victoria would be announced in July.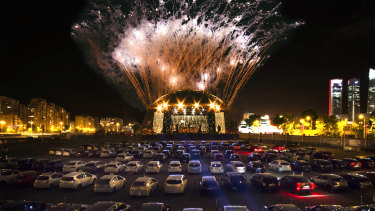 "The primary locations will be launched in July and this [launch on Thursday] is an opportunity for us to demonstrate how this model will work and how a drive-in live theatre can operate, given that it's a first in Australia.
"Then we'll see where the wind takes us … it's very exciting".
The Drive-In hubs will be available for any artist, agent or manager to book live bands, singers, musical theatre, comedians, ballet, or orchestras. Performances will have the added potential of being live-streamed to the cars via video conferencing, allowing the audience to interact with artists and vice-versa in real time.
A condition of entry will be that no person is to exit their vehicles while on site except to use the bathroom. Food will be available via contactless order and delivery from on-site food-truck vendors.
Loading
"Thousands of creatives, performers, musicians and technicians have been left out of the JobKeeper allowance, and our proud industry is on its knees," said Chloe Dallimore, president of MEAA Equity. "Drive-in Entertainment is an innovative way of rethinking audience access to our live entertainment sector. It's a retro concept that will not only thrill audiences but will hopefully help keep the heartbeat of Australian entertainment alive and thriving until we're able to perform in our traditional venues once more."
"We've seen comedians, actors and singers live stream on social media platforms, performing either for free or for pay-what-you-can donations, which has been inspiring and gives us all hope," Dallimore adds. "However, we must revitalise our industry – recognising the true dollar value of a live performance so that entertainers can pay the rent like other workers is a huge step in the right direction. Drive-in Entertainment feels as if it could be the trailblazer."