There is also a gateway to Amazon Prime Video, which recently launched a series of 10 live specials from leading Australian stand-up comedians. To watch that content requires a paid subscription (or at least signing up for a free trial period), but the majority of what can be streamed via the portal is free to the user.
Some artists will, however, be paid to digitise their existing content for inclusion online, while others will create new work for the portal. The work is expected to be funded via quick-response "micro-grants", though no details have yet been announced.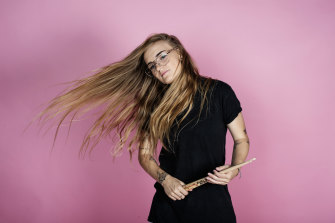 Mr Gudinski said The State of Music would feature a mix of live chat, with audiences able to interact with the artists, and pre-recorded music performances "to ensure quality".
He said he hoped the hour-long show – whose name is a reference to both the dire state of the industry because of coronavirus shutdown and to Melbourne's status as "one of the great music capitals of the world" – would "open more prime-time television, because while Tripe J is fantastic it's important for songs to go beyond that." He predicted the new show would "break artists worldwide".
According to the state government, the creative industries employed about 260,000 people in Victoria prior to the outbreak of COVID-19, but the sector has been hit especially hard by the ensuing shutdown, with artists, actors, musicians and other creators losing their livelihoods.
"This digital offering will not only share Victorian creative content with more people, it will also help generate new opportunities for our creative industries hard hit by this pandemic," said Foley in announcing a $2.35 million fund "mainly to help support creators digitise their content and generate new experiences online".
The Australian Centre for the Moving Image (ACMI) is leading the curation of the new content.
ACMI chief executive Katrina Sedgwick said she hoped the portal, which was developed by the Department of Premier and Cabinet in a little over three weeks, would "help us discover a whole lot of content that might not come up through your Facebook feed and Google algorithms".
"To have the Victorian government announce this as a central plank to their response to COVID-19 reflects how central the creative industries are to Victoria," Sedgwick said. "Creativity is core to our economy, and it is going to be core to helping us recover."