"Beyond the racism and violence within the film, editing a film AFTER IT HAS WON is rigging the system," she wrote on Twitter. "It's dishonest and unfair to the other films in consideration."
Law, co-writer and star of the SBS comedy series Homecoming Queens, said the decision showed "how racist and broken the screen industry is in Australia" and accused the filmmakers of "perpetuating a racist system from which they benefit".
A senior lecturer in directing at the Australian Film Television and Radio School, Pearl Tan, said she and her friends had been privately sharing "anger, sadness [and] disappointment" since watching Mukbang.
She was "deeply disappointed" with the festival and the judges for it being selected and winning "without anyone questioning the lack of cultural competency".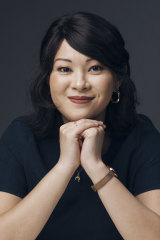 "Once the issue was flagged the film festival swiftly conspired with the filmmakers to re-edit the film and slide that new edit quietly into the streaming platform," she wrote on Facebook.
"This incredible hustle would've been a tremendous amount of work for the filmmakers and the staff within Sydney Film Festival to pull off … and all to sweep under the rug their racism."
After the outcry, Scanlen said on behalf of everyone who made the film "I am so deeply sorry for creating a work that has caused offence.
"I intended this film to be a young girl's journey of self-discovery in the age of internet culture and I failed to recognise how problematic this was," she wrote on Instagram. "I take full responsibility for this."
While Mukbang has been streaming at the virtual festival since June 10, Scanlen said it was only when it was pointed out by members of the black, Indigenous and people of colour (BIPOC) community "who are tired of constantly having to do so, that I realised just how deeply hurtful it is."
Fat Salmon Productions, which made the film, issued a separate apology saying "we're ashamed to have overlooked the issues with the film and it just proves how insidious, persistent and deeply embedded systemic racism is in Australia and in us as white Australians".
Loading
"The issue is the fact that we didn't pick up on this as predominantly white creators and creatives. If we had more BIPOC [heads of department] or crew this wouldn't have happened."
Festival director Nashen Moodley said it supported the selection of Mukbang in the Dendy Awards and the jury's deliberations and agreed to remove "an image which may cause unintended triggers" from the film.
"The festival respected the filmmakers' request to change their film to an alternate version and effected the change," he said.
Get our Morning & Evening Edition newsletters
Garry Maddox is a Senior Writer for The Sydney Morning Herald.