Tchaikovsky's much-loved Nutcracker will be the first show to be featured, kicking off with an introduction to the musicians and their instruments and a synopsis of the story, followed by an exercise children can take part in. Lyrics can be downloaded from the MSO site ahead of the workshop going live.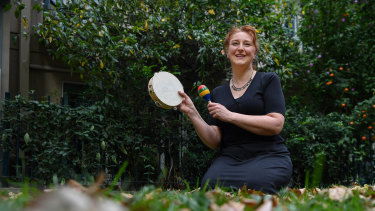 "Secretly I write [the show] for the parents, so that they can feel comfortable engaging their kids in developing musical skills at home as well," Kyriakou says.
While the in-person program is usually aimed at kids under five and their families, the online version is designed for all primary school ages.
Kyriakou says Jams for Juniors is a great introduction to classical music for all ages. "You don't have to know a single thing about music to enjoy this."
The MSO will release four themed workshops in the series. Next up is a focus on Dvorak's New World Symphony, followed by Beethoven's Emperor Concerto and finally Bizet's Carmen.
Loading
The program also includes instructions on how to make a simple percussion instrument – a shaker – kids can use to play along with a piece of music. Kyriakou sayscreating their own piece gives children a sense of ownership of the instrument. "They feel responsible because they are making an instrument for a purpose," she says.
Later this month, children – and adults, for that matter – can also try their hand at works by the likes of pop artist Andy Warhol or French modernist Edouard Manet. The NGV's drop-by drawing classes are hosted by artists and will focus on particular works and genres.
On Sunday, artist Minna Gilligan will take viewers through Andy Warhol's Self-portrait no. 9 (1986) and David Hockney's The Second Marriage (1963). Her idea for the drawing workshop is to introduce the idea of mash-ups, referencing two works in the NGV collection in order to make a single drawing. "I wanted the new work to be a personal translation inspired by these two works, by choosing elements of each that appealed to me," Gilligan says.
The following week, on April 19, artist Kenny Pittock will show how to draw Manet's The melon (c. 1880), a work from the NGV's 19th century gallery. He hopes his workshop provides some fun and accessible drawing suggestions for kids and adults alike, of all skill levels.
"I chose the Manet painting The melon because it is the ultimate celebration of the mundane," Pittock says. "I find a lot of humour in the sincerity of still-life paintings from this time and enjoy creating playful responses to the mundane in my own practice."
Kerrie is a senior culture writer at The Age and The Sydney Morning Herald