Before The Torch, Beeton was living on the street, offending to make ends meet. "Now I'm painting and I've got people buying my artwork so I'm not re-offending to make money. I call myself a professional artist now. It does feel good."
This year the exhibition title Confined takes on an extra level of meaning. The Torch have engaged the services of German company Kunstmatrix to create a 3D virtual gallery online. The 300 works that would have filled the Glen Eira Town Hall Gallery will now be viewable the world over, which is no small thing for an exhibition series that has already generated more than $1 million for Aboriginal and Torres Strait Islander artists in or recently released from prison.
"For me, there's only one option," says Torch CEO Kent Morris. "The exhibition must proceed. It's the key annual event for the program and the men and women put in so much time and energy."
Morris started the program in 2011, visiting inmates at each of Victoria's 15 prisons to determine whether art-making could offer something for their rehabilitation. The almost ubiquitous response he received was that would-be artists couldn't find a subject to paint if they'd been disconnected from their own culture.
"They were painting in the dark, in a sense," he says. The premise upon which The Torch is built, then, "is to understand your culture, understand who you are, express that through art, connect to community, connect to the arts industry and generate some income to provide stability."
Ash Thomas's life has also been turned around by Confined.
"I didn't have much of a life before," she said. "I've always struggled with drug abuse and alcohol and haven't had a very good life. Went to jail and this time I picked up a paint brush and got the support of Torch. I could not imagine the life I have now. I never would have thought this was possible."
Thomas has sold art at every Confined since 2017, and like Beeton, has established a loyal clientele.
"I've sort of gotten myself into a position where every painting sells. I've got a few people following me, which is good. I put a lot of time and effort in and I've grown that much as an artist."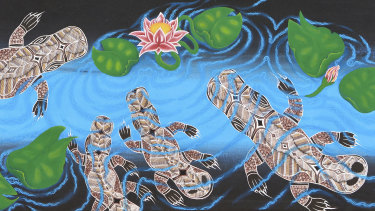 The diversity of work in Confined reflects the breadth of Indigenous culture in Australia. Beeton describes her paintings as cartoonish, featuring bold colours designed to appeal to children, while her subjects are almost always the Tasmanian emu, totem of her Palawa people.
Thomas has built his practice referencing traditional shield and spear carvings, but is now exploring more realistic depictions of native animals.
For many artists in prison, says Morris, the very prospect of exhibiting work outside can be confronting. He describes one 2×2-metre painting as one of the most extraordinary he's seen, but its painter kept it tightly rolled up beneath the bed in his cell, concerned that if it left, he would never see it again. When he finally agreed to exhibit the work at Confined, it sold for $7500.
Loading
"He would have been homeless when he came out — there was no accommodation for this man — and he was able to pay for his own accommodation and get on with his life.
"He's had so many exhibitions and commissions since then and supports himself through his art."
John Bailey is a contributor to The Age and The Sydney Morning Herald.