An alarm system is proposed to warn people on the riverbank and in the undercroft of flash flooding.
Council said public safety shouldn't be reliant on "high technology flood warning systems that in any event cannot predict flash flooding". In February the impact of flooding was underlined when the ground floor of a four-level car park and the riverfront, on which the museum is to stand, was partially submerged by floodwaters.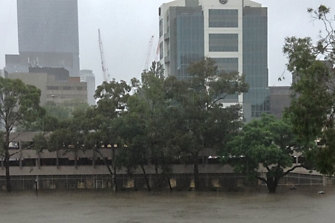 Council has recommended structural engineers Arup delete the undercroft as it "divides the landscape, creates dark, underground voids and lacks seamless integration with the surrounding public domain".
Closed on three sides and open to the river, the undercroft has been proposed for use as basketball courts, temporary exhibition spaces or a skate park. Council says the four-metre-high ceiling is too low for most of these options.
"Location of large, habitable spaces within a high hydraulic flood zone also presents a [significant] threat to life and is unlikely to be permitted," it noted.
Loading
The submission describes the museum as a once-in-a-generation opportunity to realise an "exceptional, world-class cultural and arts facility that nurtures a thriving social and cultural precinct" and says Parramatta's culturallydiverse population would benefit from the investment in culture and the arts and increased job opportunities, including 3000 ongoing positions.
Transformation of the site demanded a design that was second to none and imparted an outstanding legacy to the city, the council said.
While the design had many positive elements, the council wanted the government to collaborate with it more closely. Heritage was not a "fundamental element of the design", it said.
The EIS prepared for Infrastructure NSW has recommended the Parramatta Powerhouse proceed despite the loss of two heritage buildings, as the benefits of the culturally significant institution outweighed heritage concerns and loss of the community's sense of place.
Among other design changes, council insists the Civic Link, which funnels visitors from Phillip St and Parramatta Station, should be at least 20 metres wide.
A spokesperson for Infrastructure NSW said it would consider and respond to all submissions received during the public exhibition period.
Linda Morris is an arts and books writer at The Sydney Morning Herald