"I am not the first Aussie writer to be gazumped after coming up with a hot original idea."
Warner developed the Holmes-and-female-Watson concept as a film script from 2003, when Sir Arthur Conan Doyle's works were still in copyright.
He pitched it in Los Angeles in 2005, but got no takers so converted it to a TV series concept on which he was working when copyright cleared and the storm of Sherlock movies and series began.
Warner reworked the concept again, creating an NYPD connection, and was on the verge of sending it out as a fresh script when a new series appeared in the US – with a female Watson, based in NYC.
Gutted, Warner shelved the project but eventually decided to novelise. He would still be first to bring a Victorian-era Holmes into the present, and a novel could explore this more deeply.
It does: but Warner must first dip his toes into sci-fi.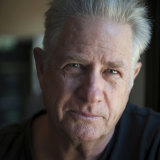 Watson masters reviving frozen hamsters, but lacks a human subject. Then she receives an old diary revealing Conan Doyle based his books on real doctor John Watson, her ancestor, and his friend Sherlock Holmes, who really did plunge to his death in icy waters.
Watson recovered and recorded the location of Holmes' frozen corpse, so Georgette Watson smuggles it back to her New York lab and revives it. The new Holmes-Watson duo then investigate a serial killer case, consulting to detectives who believe Holmes a visiting private detective.
Complicating matters is romance burgeoning between Holmes and Watson that threatens to become a tragedy, as something is wrong with the science and Holmes starts deteriorating.
And Warner's thought that a novel could explore this far-fetched premise most deeply is indeed where the value lies.
The tension between the world Holmes left and the one he confronts gives the novel its fun: think Holmes outwitting NYC street grifters, and striding into a chemist demanding cocaine, only to be horrified at its being outlawed.
But it also provides the pathos. Firstly, Holmes, while competently 'blending', feels dislocated, giving rise to the book's best passages, with sensory detail soaking his nostalgia for the sights, sounds and smells of long-lost London, and the jarring contrast of his jarring New York experiences.
Secondly there is the injustice of a couple finding love across time only to face the possibility it will be torn from them.
Warner seems happiest in his home territory of crime. The book skates over the early corpse-stealing and reviving as necessary but peripheral; the best writing is in the second half.
The characters of Georgette Watson and her family take a while to get set up, and some more upfront focus on Watson's character might have worked.
Loading
Her love for her hamster research subjects if emphasised earlier might have made her a bit more relatable. There might have been a stronger earlier link drawn from a childhood near-death experience to her choosing the world's strangest scientific career; or a stronger explanation of why she's a buttoned-down neat freak.
By contrast, the unlikely Holmes is the most finely drawn and sympathetic character, though again the payoff comes in the second half: his surprise at his first experience of love, his feeling of being a fish out of water, and his agony of having his most reliable asset, his brain, apparently atrophying.
And there is no faulting the plot, which is well-rounded, provides end-game surprises and takes care of all loose ends.
Warner works his gift for simile to the full as he builds scenery and action into a layered story with a cracker climax that goes off like one of those fireworks that surprises with multiple bangs.
There are also lots of bloody murder victim corpses scattered generously throughout, which I always appreciate.
This is a rainy-day read of unalloyed fun and I look forward to what Warner produces next. If his prescience on updating Sherlock is any indication it might just be a sneak preview of Hollywood's next big thing.
Crime
Over My Dead Body
Dave Warner
Fremantle Press, $32.99
This review is supported by the Copyright Agency's Cultural Fund and the Judith Neilson Institute for Journalism and Ideas.
Emma Young is a WAtoday reporter focusing on environmental issues, urban planning, social justice and the arts. She has won seven WA Media Awards, including the Matt Price Award for Best Columnist.