"His collection was floor to ceiling, spread over many rooms," she says. "Typically, collectors focus on one area. Peter's collection was very rare because it spanned so many different interests. He was a polymath."
Apart from jade, Father Peter collected Chinese silverware and porcelain. Antique ikons from both the Russian and Greek orthodox traditions. Australian paintings and early Italian prints. English miniatures, Italian sculptures, cameos and intaglios (engraved gemstones dating back to Ancient Greece and Rome). Plus at least 1000 books, described by Schriever as "the most comprehensive art and architectural library I've ever seen in a private home".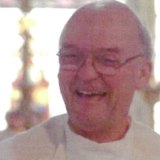 However, if Father Peter was an anachronism in his lifetime, he's now become a poster boy of the Covid-19 international online auction scene. On Wednesday Bonhams will hold its first "live auction behind closed doors" since the lockdown started.
Its focus is on jade, Chinese silverware and ceramics – with the best of the 73 lots coming from the Grice Collection. Father Peter's paintings and prints, ikons and intaglios, cameos and carvings will be spread through future Bonhams online auctions. (He left his books to his favourite libraries.)
"As a kid he collected coins and stamps," says brother Mike Grice. "Then when he was 16 he bought his first painting, a landscape by LLoyd Rees. It cost him £23/7/6 and he paid it off on lay-by."
At 18, Peter followed his vocation and joined the local seminary, spending six years in Rome where his collecting tastes expanded. Thereafter, collecting – and his faith – became twin passions.
"Peter never owned a car and never owned a TV," his brother says. "Instead he got pleasure from sitting with his collection. He'd read his books, enjoying being surrounded by things he loved. He never had much money, so he traded in something he'd bought for a better example."
Father Peter's collection isn't worth a fortune. Probably the best price in this sale, around $5000, will go to an insignificant looking decorated jade pebble from the Qing dynasty. Yet his eye was often ahead of his time – and perfect for this year of catastrophe, Schriever says.
"We're all under so much pressure now, collecting has become a kind of relief; comforting and stimulating."
Many of the registered bidders are from the Chinese diaspora: Hong Kong, Taiwan, the US as well as mainland China itself.
"When Peter began collecting 19th Century Chinese silverware made for the export market, it had little commercial value," Schriever explains.
Back then, China was making cheap knock-offs, produced by dirt-poor artisans, of European tea sets and beer tankards.
"Now a silver teapot with a dragon design from the 19th Century is highly desired, part of Chinese cultural history," Schriever says
Bonhams Australia, May 13, 6pm. Preview and live bidding, bonhams.com.