It's a slight, if amusing, offering from the global streaming giant. A local take on a format previously produced in Japan and Mexico, the six-part series was shot over two days at Sydney's Fox Studios last October. In a flashy evening gown, Wilson is tasked with corralling an all-star lineup of local comedians – mainly the anarchic energies of Sam Simmons, Anne Edmonds and Frank Woodley – who are vying for a $100,000 prize by refusing to crack a chuckle at their competitors' antics.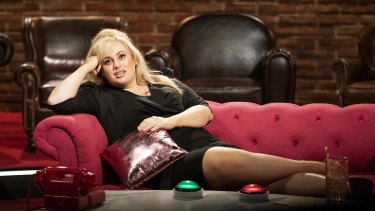 At its best the show has the untethered feel of a hangout with funny friends, like the fabled "back table" of a standup club. Wilson – who was offered the gig after a spell as the multinational's advertising face, starring in a "big Super Bowl commercial" for Amazon and a campaign for their audio-books service Audible – says the opportunity to "showcase Australian comedy talent" was what sold her on the format.
"It's hard here because we're a small country and there's not many opportunities for our comedians on TV. I know when I was coming up, it was like only two people got their own shows each year: one year it was Chris Lilley and me. And I remember thinking, 'Oh, no wonder everybody leaves, nobody else gets a show,'" she says. "But this is a worldwide showcase, and they don't have to give up any of their material, but they get exposure in over 200 countries now just from shooting this."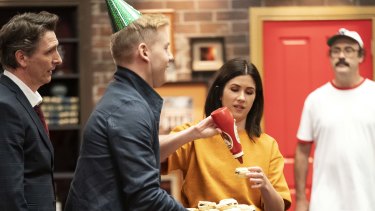 Wilson was 29 when she went to Hollywood, after what she calls "a hard slog" cutting her teeth on four seasons of Fat Pizza on SBS, "just to get some on-camera improv experience". Her plotted return to the industry that birthed her has been its own struggle. Wilson admits her high-profile 2017 defamation win against Bauer Media, and the unflattering media attention it conjured, had soured her on working in Australia.
"It did, but not about the industry," she says. "It was more that it was in the media's interest to not portray me so positively because they were in fear of what a result in my favour might mean for them. And my case did change the law in a way that was not positive to the media companies."
Does she think there's a case of resentment, or tall poppy syndrome, in the way she's been written about and discussed?
"A bit, yeah. And I think every successful Australian feels that," she says. "But I hope with younger generations that slowly gets weeded out, to use another garden reference. Because to get knocked down purely because you're successful … Like, you become a name overseas and somehow they turn on you? I don't know … I'm a proud Australian, I love Australia, and it did hurt not to get that fair treatment."
She says she's been making further plans to work in Australia. She recently sold the first movie she's written – a musical-comedy with a "mainly Asian cast … like Pitch Perfect but set in the K-pop world" – and hopes to shoot it in Australia "if it all works out".
"Any way now that I can attract more production and more stuff to Australia to showcase the people here, 'cause Australia is so far away, it's a good thing."
LOL: Last One Laughing premieres on Amazon Prime Video on Friday, June 19.
Robert Moran is a culture reporter at The Sydney Morning Herald and The Age