The end result will be a pop-up library at RMIT's Capitol Theatre next year, collecting and lending out discarded video and film. It may also exist digitally, depending on how many digital submissions she receives.
"The idea is that there's a lot of video art out there that's been kind of abandoned," says Scott (she is also a local programmer, producer and RMIT vice-chancellor's scholar).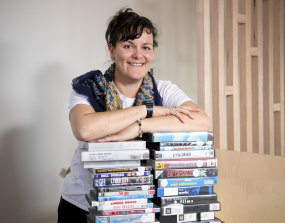 Format drift is partly to blame. As she says on her website: "Bring me your tired beta cams, your poor mini DV tapes, your huddled DVDs, yearning to be inserted in play decks once more. Send the wretched refuse of your LaCie drives, plastic tubs and steel shelving units to me, that they may play another day."
The 38-year-old says VHS was the first "access medium" for film, before which the only option was the cinema or TV – and if you missed it, that was it.
"We didn't have that opportunity to watch what we wanted," she says. "Video shops were that first shift from film being a really experiential thing, something fleeting and transient, to something domestic. You could bring films home… people started their own collections."
There was a democracy about video shops too, she says. "They were able to bring in things that were not part of regular distribution channels – B-movies and straight-to-video movies that weren't released in cinemas."
They made film and film culture more accessible.
"[You] could be influenced by horror films or weird documentaries… These things were thrown together in this collision of content."
Scott is a massive fan of the DVD player and her treasured DVD collection. She loves that it sidesteps the problem of internet speeds when streaming movies or series, the bane of many people's lives.
The impact of streaming more broadly is not to be underestimated. "For a while, the internet matched if not exceeded the diversity of what was available in video shops," she says, but that has changed. "Not only do you not have access to what you would have at your average Joe Blow video shop down the corner but you have to have specialist knowledge of film culture and the internet to find them.
"[Previously] you could go and find something you didn't know you were looking for, which is the difference between the big streamers. They're never going to serve up something they don't think you're going to be interested in."
To make a submission, visit JessieScott.tv.
Kerrie is a senior culture writer at The Age and The Sydney Morning Herald