Sources close to the salon owners say a devastated Rota discovered text messages on her husband's phone that appeared to confirm the affair with the client who works a stone's throw from their business. Rota, who has a child from a previous relationship, proceeded to contact the client's husband to expose the secret fling.
Since then Cole hasn't been tending tresses at the Knox Street salon, with sources confirming he and Rota have called time on their marriage. The pair met while working at Joh Bailey's neighbouring salon before going out on their own after falling out with the celebrity stylist at their 2017 Bali wedding.
Hemmes lays on the private jet and superyacht for mate's birthday
Merivale hospitality guru Justin Hemmes pulled out all the stops to celebrate MaxCap investment boss Brae Sokolski's 44th birthday.
Emerald City hears Hemmes generously chartered a private jet for Melbourne-based Sokolski and his pals to fly up to Sydney for the long weekend.
Hemmes hosted a lavish dinner in the mimi's private dining room at his Coogee Pavilion on Thursday night for the birthday boy.
Guests included hospitality publicist Rebecca Gibbs, former Merivale staffer Jenn Black and model Madeline Holtznagel, who has been residing at Hemmes' Hermitage Estate in Vaucluse. Festivities continued on Saturday with a party aboard a superyacht on Sydney Harbour.
Last year Sokolski won the biggest prize ever offered in Australian horse racing history when his co-owned racehorse Yes Yes Yes won $14 million at The Everest at Royal Randwick.
Nightclub king Tobias a bachelor no more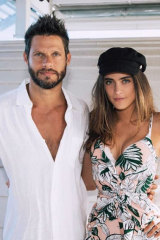 Once deemed one of Sydney's most eligible bachelors, nightclub king Julian Tobias has officially given up his single status and landed himself a girlfriend. Emerald City hears the former GQ Man of the Year nominee and Cleo Bachelor of the Year finalist has been dating French IMG model Charlotte Coquelin since 2017.
The genetically-blessed couple have been lapping up time in isolation, practising jiu jitsu, cooking vegan food and making that ultimate act of commitment – becoming parents to a puppy named Miso. Coquelin, 24, splits her time between Europe and Sydney where she resides with the hospitality entrepreneur in the east.
Tobias, 42, has previously been linked to a number of high profile women including model Julianna Forge and Canadian actress Nina Dobrev.
The former model and real estate agent made his mark on Sydney's party scene opening Kings Cross hotspot The Club, floating day club The Island, and Double Bay's Bedouin restaurant and lounge.
Fashion set ditch hype brand Sporty & Rich
In fashion, one day you're in, the next you're out, and that's certainly the case for cult brand Sporty and Rich. The 90s-inspired athleisure-wear label has fast become a wardrobe staple for Sydney's trendsetters, with Phoebe Burgess, Caroline Tran, Kristin Fisher and Montarna Pitt all sporting the garb.
The exclusive brand sells a limited collection online each month with items made-to-order, stocking oversized jumpers, slouchy T-shirts, bike shorts and the highly-sought-after "Be Nice. Get Lots of Sleep. Drink Plenty of Water." slogan tee.
The brand has become so popular that dozens of fashion-conscious Sydneysiders enlisted personal shopper Gab Waller to source the sold-out top.
Loading
However, last week Sporty & Rich founder Emily Oberg came under fire after accusations of fake sustainability, poor quality products and tone-deaf social media posts sparked outrage from customers.
Australian fashion influencers Jade Tuncdoruk, Brooke Hogan and Roz­alia Russian announced they would no longer be supporting the brand. There is now a post doing the rounds on Instagram post showing side-by-side comparisons of designs the label has allegedly copied.
Lucy Manly is a reporter and gossip columnist for The Sydney Morning Herald and Sun-Herald.