The 43-year-old alternative pop singer says she hasn't been feeling overly creative but has found pleasure in seeing the public draw comfort from music and virtual performances by artists around the world.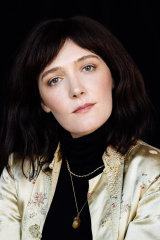 "I have really been enjoying the very basic engagement people are having with one another in music," Blasko says.
"I have been enjoying the IsolAid festivals every weekend because it gets people back to the essence of why they love music. We are all just people on the same level with this, no one is doing anything hi-tech, everything is really humble."
But Blasko's own lo-fi live Instagram gigs are a world away from the next performance fans can expect to see.
A recording of Blasko's debut show at the Sydney Opera House's Concert Hall in 2013 will be released, free of charge, on YouTube.
The Opera House has been streaming free concerts, talks and other performances every week while closed as part of its From Our House to Yours digital program. Other new releases include pianist Simon Tedeschi performing Meeting Mozart, Astrophysicist Jo Dunkley's appearance at the All About Women festival and a behind-the-scenes look at Opera Australia's production of The Pearlfishers. Previous recordings have included Missy Higgins' Valentine's Day performance in the forecourt and Sigur Ros frontman Jonsi's Riceboy Sleeps project with Alex Sommers.
Loading
Filmed live, Blasko was accompanied by the 40-piece Sydney International Orchestra, under the baton of Roland Peelman, as she performed her haunting self-produced fourth studio album, I Awake.
"Setting out to make an album with an orchestra I remember thinking, 'am I even going to be able to do this?'," Blasko says.
"Then to stand up and perform the whole record with an orchestra…it was something I had been thinking or dreaming of since I was a child. I remember I cried at the end of the tour, it has definitely been my favourite tour ever."
The Herald's reviewer Craig Mathieson described the album recording of the 2013 show as a confirmation of Blasko's talent.
"These renditions are astute and airy, tenacious and tender," Mathieson wrote.
While Blasko concedes that a live performance will always be better, she says the film version has managed to capture much of the magic of the concert.
"Every now and then people have posted little bits from it and I have had a chance to look back and admire it," she says. "I do feel really proud of it. They really captured the atmosphere in filming it."
Sarah Blasko live at the Sydney Opera House will be released at 8pm on Friday.
Nathanael Cooper is a senior culture writer at The Sydney Morning Herald and The Age with a focus on music.