On the downside, the room was nearly empty. On the upside, Gordi – known as Sophie Payten to her parents back in Canowindra – had the material to suit the desolate circumstances of her Opera House debut.
In an uncanny premonition of COVID-19 quarantine, Gordi's new album Our Two Skins was recorded on her family's farm last year, in an isolated cottage with no internet or running water.
Intense, introspective songs were the result, and Gordi started this livestreamed show with the two most emotionally heightened of the lot – Aeroplane Bathroom and Volcanic. Both evoke attacks of anxiety over brooding piano and simmering folktronica, the first climaxing with Gordi keening at the top of her range, the second with her almost primal screaming.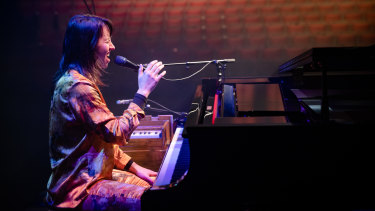 The silence at the end of each of these excavations of the soul felt respectful and right. A latecomer shuffling past and spilling his drink on you would have spoilt the haunting effect.
Optimism can't come easily at the moment to Gordi, an emergency room doctor who in a couple of weeks will serve in pop-up testing clinics at the frontline of Melbourne's battle with coronavirus.
But moving from grand piano to her Maton acoustic, Gord played her way to positivity with two songs from 2017 debut album Reservoir. Eyes closed and brow furrowed, she inhabited the bargaining and pleading state of mind it would have taken to write On My Side. Then her contralto was at its warmest for the reconciliation of Can We Work It Out, its triumphal tone underscored by Lachlan West's epic drumscape and keyboardist Mickey Kojak's swirling electronics.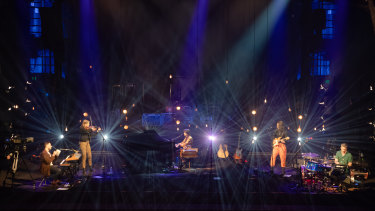 The shift from harrowing to heartwarming was complete with Extraordinary Life. Easily the highlight of this 40-minute show, the unabashed love song was transformed from its Our Two Skins version with gorgeous ascending harmonies, conjured with violinist Jenny McCullagh and bassist Rebecca Goring. (Another double-threat, Goring plays for Geelong's AFL Women's team.)
Heaven I Know kept the mood elevated, its stadium-sized melody sent to the stars by otherwordly looping and vocoder effects, before a slight misstep in Sandwiches. A tribute to Gordi's late grandmother, it was too specifically personal to really resonate, but no such problem for closer Unready.
A majestic-sounding thing, Gordi's commanding, Fender-thrashing performance was one to make all of us at home feel better about the uncertainties we face.
Gordi's performance is streaming as part of the Sydney Opera House's From Our House To Yours digital season.
Michael Bailey writes on entrepreneurship and the arts. He is also responsible for the Financial Review's Rich Lists. He is based in Sydney.