Hundreds of volunteer-run museums responsible for the care of historic buildings and collections across the state are struggling to rebuild in the wake of the pandemic lockdowns and Kandos Museum, near Mudgee, is no exception.
Museum & Galleries of NSW has urged the Berejiklian government to provide emergency assistance to ensure all 300 community-managed not-for-profits, mostly in regional NSW, survive the government-enforced restrictions on public gatherings.
Alstonville Plateau Historical Society, which runs the Crawford House Museum, its collection of women's handicrafts and the local history research centre, estimates a loss of $5759 in income during the shutdown until July.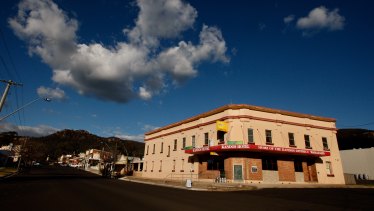 The museum's major fundraiser, it's July quilt festival, which raised more than $2000 annually and contributed to the rent of its community resource building, has been cancelled.
It's planning a low-key opening in early June. "Because we are so far north, many of our visitors are from the Gold Coast and they are not coming down," member Jane Gardiner says.
There's been a roster call-out for volunteers to reopen the museum but the elderly among them, vulnerable to illness and worried by exposure post-pandemic, are unlikely to be back. "In the long term we might not open so often," Ms Gardiner says.
The museum's predicament is not unique. "In our area there are at least 23 small museums that could have the same problems," Ms Gardiner says. Only the Tweed Regional Museum is fully funded by council, the rest are self-funded with occasional grants from state government or council.
Nearby Brunswick Valley Historical Society, which runs the Mullumbimby Museum, estimates a shortfall of $7300, representing a precipitous 95 per cent drop in income.
Society president Stephen Hall said many volunteer-managed museums like his held little cash reserves to cover the loss in income. Seventy-five per cent of its operating income came from admission fees, sales and the proceeds of a monthly market.
Volunteer-managed museums like Kandos are seeking rent waivers from local council, chief executive officer of Museums & Galleries NSW Michael Rolfe says.
None are eligible for the $10,000 small business grant announced by NSW Treasurer Dominic Perottet.
Create NSW says the micro museums can apply for part of $50 million emergency funding package provided for struggling not-for-profit arts and cultural organisations, but it's to be strictly determined on a case-by-case basis.
To lose any of these micro museums would be a tragedy for the townships they support and to the guardianship of the state's precious heritage, Mr Rolfe says.
As museum president preparing to open its doors on June 5, Mr Sanderson wants to get the message out that micro museums like Kandos need visitors to return in great numbers.
"Small town museums and galleries really contribute a huge quantity of content to the visitor economy. And for free," he says. "Very few people book into the Shady Rest Motel because of the bed linen, they come for some other content. So why can't this sector get support like all the other parts of the visitor economy?"
Kandos, population 1261, brands itself as "the town that made the cement that made your town". Any of those early 20th century high-rises in Sydney CBD were probably made with Kandos cement, says Mr Sanderson, one of the eight dedicated volunteers who puts in the 120 weekly man hours needed to run the museum from Wednesday to Sunday.
During the days of the Spanish Influenza, the town was a model of lockdown compliance. Shopkeepers were asked to order goods by train, commercial travellers were asked not to visit, the cement company was asked not to employ outside labour and a committee of 15 watched trains to report on new arrivals.
Loading
The museum doubles as the tourist information centre and the association has the lease on the railway station too, running heritage rail trips from Lithgow to Kandos before the pandemic-induced restrictions shut that down.
A few thousand guests could transform town life. "Footfall traffic is the paywall and if no one is coming through the paywall, then there is no love," Mr Sanderson says.
Linda Morris is an arts and books writer at The Sydney Morning Herald