Outside their cars, patrons are encouraged to stay at least 1.5 metres away from each other.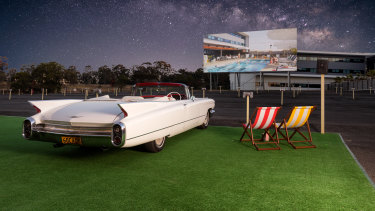 Other COVID-19 safety measures include a recommendation for online booking and contactless barcode scanning on arrival, hand sanitising stations, cashless payments for a limited candy bar menu and patrons being encouraged to either bin their own rubbish or take it home after the movie.
Restrooms are available "for emergency use only" with a maximum of two guests at a time.
Loading
Tickets cost $25 for each car with a maximum of five people.
The appetite for entertainment outside homes since restrictions began to ease saw the drive-in's return greeted enthusiastically by movie-goers. "Oh, I'm so happy to hear this," wrote one fan on the drive-in's Facebook page. "Will be coming, safe and happy in our own car," wrote another.
The Yatala Drive-In in south-east Queensland was the first cinema in this country to reopen with strict social distance measures this month and it was an immediate success.
Event, Hoyts and other chains have been planning to reopen cinemas in mid July, hoping the release of Christopher Nolan's new thriller, Tenet, will reignite box office.
Skyline's return comes as two pop-up drive-ins prepare to open in other parts of the city.
Mov'in Car Outdoor Car Cinema starts a retro movie program in a rooftop car park of Moore Park's Entertainment Quarter this week and Fairfield City mayor Frank Carbone has organised one at Fairfield Showground with an opening date to be announced.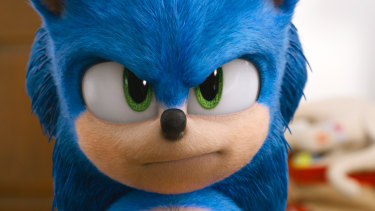 In a new twist on outdoor entertainment, Casey Donovan sang at "Australia's first drive-in concert" at a carpark in Tempe last week.
As the rapid sell-out suggests, drive-ins seem like an ideal entertainment option for movie fans wanting to leave home during social distancing.
"The drive-in has always traded well," Event's director of entertainment Luke Mackey said last week. "We'll see a resurgence for sure."
From the '60s to the early '80s, Skyline drive-ins flourished during a period of postwar prosperity in Sydney. They were particularly popular for families with small children who often wore their pyjamas and young couples who gave them the nickname "passion pits".
Loading
As well as Blacktown, there were sites at Frenchs Forest, Dundas, Chullora, North Ryde, Liverpool, Warriewood, Caringbah, Fairfield, Matraville, Parklea, Bass Hill and Penrith.
Gradually the lustre wore off as colour TV, videos and clubs showing movies became more popular, random breath testing started and smaller cars became more popular – with stick shifts, bucket seats and headrests making viewing less comfortable.
As the land became more valuable, most drive-ins were sold off for development including Chullora and Bass Hill for shopping centres, Parklea for markets and Dundas and Matraville for medium-density housing.
Garry Maddox is a Senior Writer for The Sydney Morning Herald.