The Yield follows August Gondiwindi as she returns to the fictional Australian town of Massacre Plains for the funeral of her much-loved grandfather, Albert ''Poppy'' Gondiwindi. Knowing his death was near, Poppy had started compiling a dictionary of Wiradjuri words. The entries tell the story of the silencing of Indigenous people, but they are also a powerful reclamation of Indigenous voice and language.
Loading
The book is based on real events and people and was painful for Winch, who is of Wiradjuri heritage, to write. But she hopes her NSW Premier's Literary Awards wins, as well as her shortlisting for the Stella Prize, will encourage more people to read Indigenous literature.
"It's going to be painful every time I write about Australia. There's a reluctance for the writer to write about this horror and there is also a reluctance from readers," Winch said.
"As much as there has been a good reception, I know it's easy to pick up a domestic book or a thriller, I know there is a reluctance for readers. Hopefully with these prizes, if they mean anything, hopefully it's that here is a cracking yarn and to trust there is a story there."
The other winning books include: Patrick Mullins' Tiberius with a Telephone: The Life and Stories of William McMahon ( Douglas Stewart Prize for non-fiction); Tony Birch's The White Girl (Indigenous Writers' Prize) and SL Lim's Real Differences (UTS Glenda Adams Award for New Writing).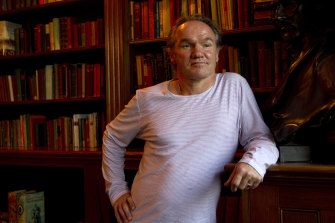 Winch said her joy at winning three prizes was tempered by the awareness that many writers, publishers and booksellers are facing deep financial hardship due to the coronavirus. She used her acceptance speech to call for more support for Australian writers.
"I think we have got to stick together. It's about commitment, it's about supporting each other through this. It's really important and that's what these awards are about. It's celebrating each other's works, celebrating the shortlist, everyone who published a book or put on a play, and encouraging each other to keep working," she said.
Winch's plans, too, have been derailed by the pandemic. She was due to travel internationally this year for the global release of The Yield. At least, she said, the strict lockdown in Paris had allowed her to visit the supermarket so she could buy a French-language edition of her novel. And after a challenging chapter in her life, Winch said she felt like her career was beginning all over again.
"I feel like I have finally hit my stride. I know my strengths. I've hit my flow."
NSW Premier's Literary Awards 2020:
Book of the Year ($10,000): The Yield by Tara June Winch (Penguin Random House)
Christina Stead Prize for Fiction ($40,000): The Yield by Tara June Winch

UTS Glenda Adams Award for New Writing ($5000): Real Differences by SL Lim (Transit Lounge)

Douglas Stewart Prize for Non-fiction ($40,000): Tiberius with a Telephone: The Life and Stories of William McMahon by Patrick Mullins (Scribe)
Kenneth Slessor Prize for Poetry ($30,000): Enfolded in the Wings of a Great Darkness by Peter Boyle (Vagabond Press)
Patricia Wrightson Prize for Children's Literature ($30,000): Ella and the Ocean by Lian Tanner and Jonathan Bentley (A&U)
Ethel Turner Prize for Young People's Literature ($30,000): Lenny's Book of Everything by Karen Foxlee (A&U)
Nick Enright Prize for Playwriting ($30,000): Counting and Cracking by S. Shakthidharan, associate writer Eamon Flack (Belvoir and Co-curious)
Betty Roland Prize for Scriptwriting ($30,000): Missing by Kylie Bolton (SBS); The Cry, Episode 2 by Jacqueline Peske (Synchronicity Films)
Multicultural NSW Award ($20,000): The Pillars by Peter Polites (Hachette)
Indigenous Writers' Prize ($30,000): The White Girl by Tony Birch (UQP)
People's Choice Award: The Yield by Tara June Winch
Melanie Kembrey is Spectrum Deputy Editor at the Sydney Morning Herald.