The launch of what was to be their fourth studio album is now on hold, but they did release a single from the recording sessions to satiate fans' appetite for new music. The track Heavy Weather was released on Tuesday and Margin said it was strange not being together to celebrate.
"Just not seeing the band members is hard, we are used to spending so much time on the road together. I would say most of the time when we are releasing something, on release day we are touring somewhere and we will watch how it is doing together," he said. "The group chat is going off, basically."
With the album release on hold and their biggest-ever national tour postponed, Margin and his band mates would be justified in feeling miffed by the situation. But he is surprisingly pragmatic about it.
"Because everyone is going through something at the same time I don't feel so disappointed," he said.
The Rubens are joined on the concert line-up by a star-studded list of Australian musicians including Archie Roach, Courtney Barnett, Dean Lewis, Delta Goodrem, Emma Donovan, G Flip, James Morrison, Bliss N Eso, Lee Kernaghan, Marlon Williams, Kevin Parker of Tame Impala, Vance Joy and others.
The event is the brainchild of music promoter Michael Gudinski and Cold Chisel frontman Jimmy Barnes, who promises two very special performances on the night.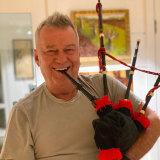 "Ian Moss and myself are going to do a song together, with my son in Brisbane, my daughter in the [NSW Southern] Highlands, I'm in another part of the Highlands and Mossy is in Sydney, and we are going to do When the War Is Over," Barnes said.
Later he will be joined by his brother-in-law Mark "Diesel" Lizotte for a darker, pared-back version of Barnes' 1985 hit Working Class Man.
"Anzac Day is going to be a very unusual time, I think it is the first time since the war that we haven't been able to go out and march," Barnes says.
"I think it is important that we pay our respect to the Anzacs, show support to the armed forces and show support for everybody at home.
Loading
"It's not the same as being in a war but we are fighting a hidden enemy here with this virus."
Barnes has been giving people a taste of what they are likely to see in the concert via regular live performances on Instagram with his wife Jane, including a recent video which demonstrated his new-found prowess on the bagpipes.
"We are having a great time," he said. "We are loving just being in our home, getting to play a bit of music and learn things we don't normally get time to do because I am constantly touring or travelling."
The Music From The Home Front concert will be broadcast on Nine (which owns this masthead) from 7.30pm Saturday.
Nathanael Cooper is a senior culture writer at The Sydney Morning Herald and The Age with a focus on music.