"I remember reading about this 12-year-old who had started doing role play Mukbang videos," she said. "I noticed the parallel [with] pornography web sites … this detached intimacy that they both share.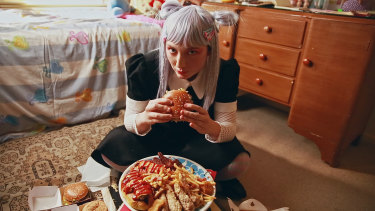 "For me, the detached intimacy is something that I've struggled with. It poses a potential danger for young people, women in particular."
Scanlen was acting in To Kill A Mockingbird in New York when the pandemic forced a rush trip back to Sydney for a stint of isolation that she has spent reading, watching films, catching up with friends "from a safe distance" and reconnecting with her family.
"I've realised I've been working for two years straight pretty much so it's probably a good time to get the creative juices flowing," she said.
Loading
Scanlen's golden run has included starring in the Australian film Babyteeth, which was well received at the Venice Film Festival last year; acting opposite Tom Holland, Robert Pattinson and Mia Wasikowska in a coming Netflix film, The Devil All The Time, and being cast in M. Night Shyamalan's next movie.
Her move into directing came with family help: twin sister Annabel designed artwork for the film and was an extra for a shoot that was partly at her old school, Loreto Kirribilli. Her parents pitched in "a few thousand dollars" to supplement her own contribution to the budget which Scanlen said "was very good of them and I will be paying them back."
The 67th festival, which has gone online for the first time, has a cut-down program announced today that includes 10 Australian documentaries, 10 films by European women directors, the Dendy Awards for Australian short films and a strand by filmmakers with a disability.
Loading
Ticket-buyers can watch them any time during the festival from June 10 to 21.
The virtual edition turns on its head the under-representation of female filmmakers on screen, with 74 per cent of the 33 films directed by women.
Festival director Nashen Moodley said films would screen with pre-recorded introductions, Q&As with filmmakers and a virtual awards ceremony.
"It's nowhere near the scale the of the Sydney Film Festival proper in cinemas but this was our way to bring attention the filmmakers and the film industry at a time that's really devastating for the cinema business," he said. "We have a very loyal and enthusiastic audience and it's a means to maintain that connection."
As an entree, it has joined 20 other festivals in We Are One: A Global Film Festival, which runs on YouTube from May 29 to June 7 – programming Rachel Perkins' documentary Mabo and Ivan Sen's film Mystery Road.
FESTIVAL HIGHLIGHTS
Our Law
Documentary about Australia's only entirely-Indigenous police station – west of Uluru.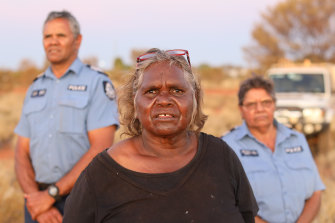 The Leadership
Revealing documentary about a group of international female scientists sailing to Antarctica.
Women of Steel
Documentary on the historic campaign by women to work at the Port Kembla steelworks.
Force of Habit
All-female Finnish drama that raises questions about women's lives post #MeToo.
Kids Run
Gritty German love story about a former boxer fighting to win over his ex-girlfriend and children.
Sea Fever
Sci-fi thriller about the crew of an Irish fishing trawler facing a deadly sea creature.
Garry Maddox is a Senior Writer for The Sydney Morning Herald.